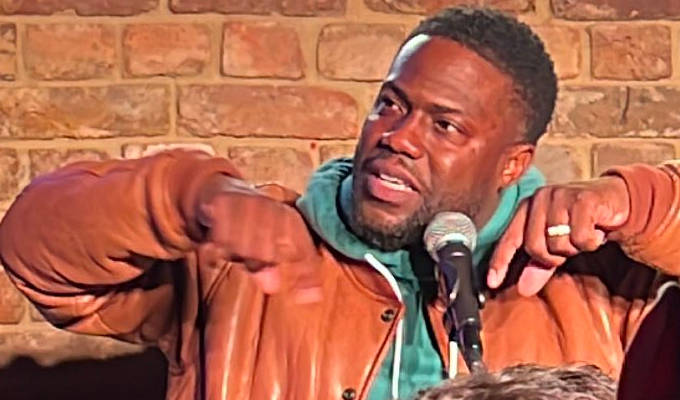 Kevin Hart plays a UK new act night!
Gong shows are always a great chance to see the rawest new comedians working out their material… like this guy who showed up at Up The Creek's The Blackout last night.
Punters who went to the South London club's weekly open mic night were astonished to see Kevin Hart take to the stage at the end of the night to test out some new material.
'@KevinHart4real turning up as a surprise guest at my local comedy club's £5 amateur night is the most London thing to have happened to me in 3 years living here,' gig-goer Anna Craven tweeted. Another posted in incredulity: ''Seeing Kevin Hart close an amateur night at Up The Creek comedy club in Greenwich on a Thursday night. Absolutely no idea what's going on anymore.'
The Hollywood star's appearance also impressed the comedians in the room:
This was INCREDIBLE. pic.twitter.com/UjnXiy9wgf

— Tez (@tezilyas) March 24, 2022
Laura Lexx tweeted: 'Fuuuuuuck just caught Kevin Hart doing a secret set at Up the Creek and it was INCREDIBLE.'
Sam Trudgill added: 'I attempted the Blackout last night... Personally, I thought I did alright.But then some guy called Kevin Hart appeared and well..'
Sam Picone: 'Yes, I did share a stage with Kevin Hart last night. Yes, I did give him a few notes on his material. Yes, his bodyguards did drag me outside by my head.'
Liam Withnail posted: 'London is fucking mad I just watched Kevin Hart Close a gong show. This is not a joke.'
Up The Creek had teased Hart's appearance on social media saying a 'top secret super mega American standup special guest world famous comedian' would be playing their venue.
And not just last night - but tomorrow too. But, unsurprisingly, tickets are no longer on general sale.
Hart is touring the US this summer, but has no forthcoming UK engagements.
Published: 25 Mar 2022
Recent Punching Up
What do you think?