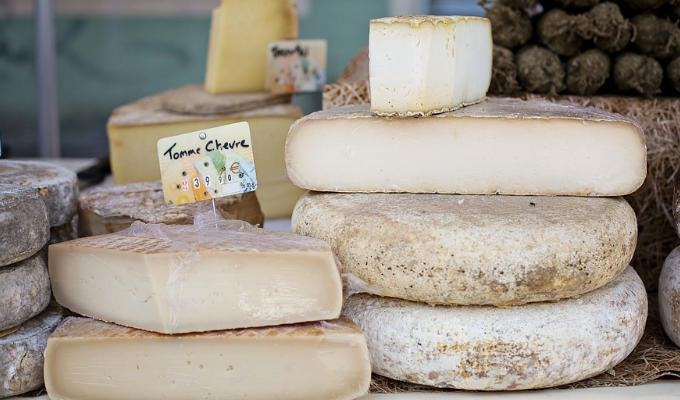 But what about the cheese at the Downing Street party?
Tweets of the week
As for the cheese at the party, turns out it was one roule for them and one roule for everyone else.

— Paul Sinha (@paulsinha) December 8, 2021
Carpe Per Diem: the daily amount of cash allocated in order to seize that particular day

— Sanjeev Kohli (@govindajeggy) December 6, 2021
Interviewer: can you explain the gap on your resume

Me: yes I folded shirts there for three years

— llama in a tux (@LlamaInaTux) December 9, 2021
My big brother would threaten to fart on my head and on one occasion he actually followed through.

— Gary Delaney is on tour now (@GaryDelaney) December 6, 2021
In Australia they've found that dedicated cycle lanes are a good idea, bicyclely.#LunchPun #RateMyPun

— Richard Stone (@RichardStone21) December 10, 2021
Doctor: bad news, you're going to need a transplant

Me: I didn't even know plants had genders

Doctor: *crosses my name off the waiting list* ok we will let you know if a donor becomes available.

— Bewg (@bewgtweets) December 4, 2021
"I keep eating my feather pillow in my sleep. It's really starting to depress me."
"Down in the dumps?"
"I dunno. I haven't been yet".

— GlennyRodge (@GlennyRodge) December 9, 2021
I've written a poem about my temperamental printer but it doesn't scan very well.

— Olaf Falafel (@OFalafel) December 8, 2021
The easiest part of our local pub quiz is the 'Dirty Harry Round' You've got to ask yourself one question.#LunchPun #RateMyPun

— Gareth George - Groan Man 🏴󠁧󠁢󠁷󠁬󠁳󠁿🇪🇺 (@groanman2020) December 10, 2021
Published: 10 Dec 2021
Recent Punching Up
What do you think?