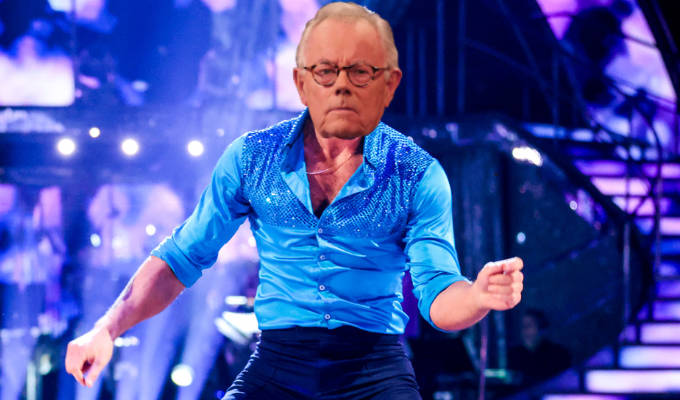 Michael Whitehall turned down Strictly
Michael Whitehall turned down the chance to be on Strictly Come Dancing, his son Jack has revealed.
The comic revealed that producers approached the 81-year-old theatrical agent to appear on the hit BBC One show.
'But he turned it down because he was worried about the Strictly curse,' Jack reveals on the Graham Norton Show tonight, adding: 'I said, "I think you'll be safe!"'
However, Michael seems to have erred on the side of caution for the sake of his 35-year marriage to Hilary, who also regularly appears in Jack's programme. But we've mocked up how he might have looked on the dancefloor, just the same.
Had he said, 'yes', Michael would have been the oldest contestant ever to appear on the show. The current record-holder is Birds of a Feather star Leslie Joseph, who was 71 when she took part in 2016.
Jack was on Norton's sofa to talk about his role in the new family film Clifford The Big Red Dog, in which he adopted an American accent.
He joked: 'What a lot of actors do is go for one region of America and commit to a single accent, but I decided that I would take a tour of all 50 states – sometimes in the same scene. Why do just do one when you can show off them al? It was all over the place!'
Asked if he is under pressure to get into shape now he is working in Hollywood, he said: 'My American agent said, "You're going to have to get buff if you want a Marvel part" and I am like, "Can I make sure I am getting the film first?"
' I am not going to get in shape and then not get a Marvel film. I need the contract signed and delivered, the flight booked, and then at that point I might lift something in the gym. But until that point, no way!'
The other guests tonight are Keanu Reeves, Olivia Colman, Cynthia Erivo and Rag 'n' Bone Man. The show airs at 10.35pm on BBC One.
Published: 10 Dec 2021
Recent Punching Up
What do you think?