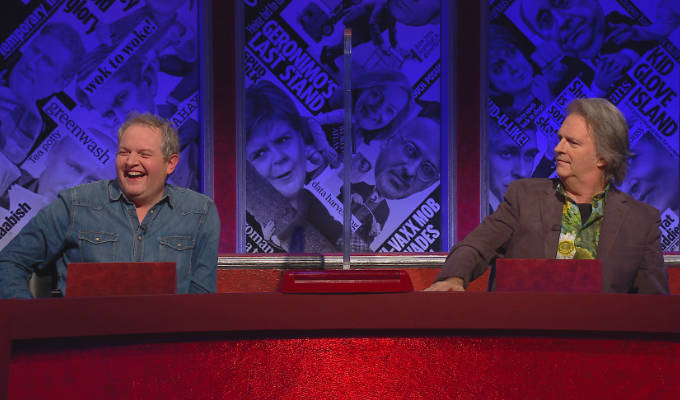 What goes on at the Private Eye Christmas party?
Miles Jupp cracks jokes about the Covid Omicron variant, the Labour reshuffle and Christmas with the Queen on Have I Got News For You tonight.
He joins journalist Camilla Long, first-time host Clive Myrie and regulars Ian Hislop and Paul Merton for the tropical comedy show.
On the confusing official advice on whether Christmas parties and family gatherings should now be cancelled, Long said: 'You're not allowed to snog under the mistletoe anymore' before adding: 'But I did see that Sajid Javid has reversed this and said that you can snog "cautiously" under the mistletoe… which I think sums up the whole thing!"
Merton added: 'You're not allowed to be kissed under the baubles apparently.'
Talking about the Omicron variant, Myrie started explaining: 'Some slightly stupid people on the internet are saying that there's…' Before Merton interruped: 'There's slightly stupid people on the internet?!" '
The host continued: 'Yes, some slightly stupid people on the internet are saying that there's a hidden code in the name. What's that, do you think?"
Hislop: 'It's an anagram of "moronic".'
Myrie: 'Close! They say "Omicron B" is an anagram of "No crimbo".'
Merton: 'But it's not called Omicron B. They've put the "B" in to make the anagram work.'
Allegations also emerged this week that the government had broken the lockdown rules in December 2020 to hold a Christmas party at No. 10.
Jupp said: 'It was around about the time that the Track & Trace app had gone so badly wrong, hadn't it? I think it messed around with various sat navs. Anyway, it turned out that Downing Street had been flagged up as a dogging hotspot.'
Myrie: 'What has The Sun discovered about what's in store for office partygoers this Christmas? Many firms are curtailing certain activities.'
Long: 'No photocopying your bottom!'
Myrie: 'That's every year though, isn't it?'
Hislop: 'What sort of country have we become when you can't photocopy your own bottom?!'
Jupp: 'Is that what the Private Eye Christmas party is like Ian?'
Merton: 'They do a brass rubbing of each other's bottoms at Private Eye.'
Later in the episode, the panel discussed Labour's surprise reshuffle this week, with Yvette Cooper being brought back into the shadow cabinet.
Myrie said: 'According to The Times, at the shadow cabinet meeting that followed, Cooper led a session on how Labour can develop a positive message. That's Yvette Cooper, minister during Gordon Brown's demise, a key face in Ed Miliband's failed bid for power, and loser in a leadership election against Jeremy Corbyn. Yes, Labour are back!'
It was also claimed this week that the Queen has banned a Monopoly from the Royal Family's Christmas celebrations this year because it gets too vicious and causes arguments.
Jupp quipped: 'Bit of a scrabble for the "Get Out Of Jail Free" card?'
• Have I Got News For You is on BBC One at 9.30pm tonight.
Published: 3 Dec 2021
What do you think?