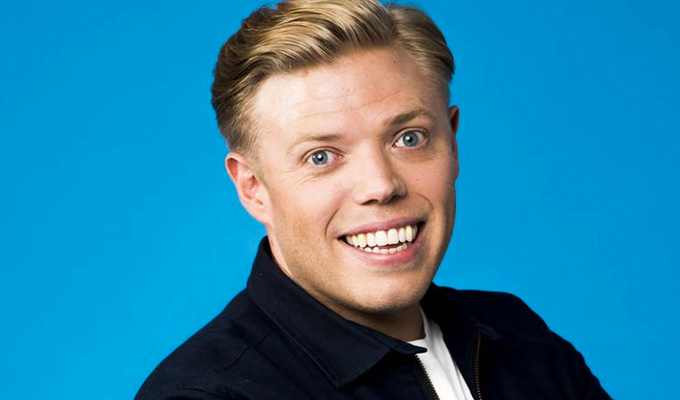 Rob Beckett: My worst corporate gig
Rob Beckett says he hadn't met any middle-class people until he went to the Edinburgh Fringe.
The comic first went to the festival in 2010 when he made the final of the So You Think You're Funny new act competition.
He returned the following year sharing a bill with Ian Smith, then made his debut in 2012… but says he never enjoyed the festival like some of his peers.
'I didn't realise I was working class until I went to Edinburgh because I'd never met anyone who wasn't working class,' he told Nihal Arthanayake on BBC Radio 5 Live.
'It made you realise that there's a totally different world. I didn't get why Edinburgh was so important, but then it was explained to me that it's the world's biggest arts festival.
'When I went up there, for me it was like, "I've got to get a show going up here and got to do well so that I can go professional and earn some money".
'I used to get a bit frustrated seeing these people having the time of their lives, when for me it was very much do or die – this isn't fun for me at this stage, this is crucial for me to get onto the next step.'
Beckett also recalled one of his first corporate gigs – which turned into a nightmare.
'I've been going about three years, I'm about 25, I've got no money and I'm still renting a flat in Lewisham. It's all bankers, heads of the banks, there's silent auctions, they're buying Maradona signed shirts for £3,000, there's money flying around…
'I go on there and all my stuff is being working-class and all my life experiences. It works on the circuit because there's normal people on there, but these are millionaire heads of banks and I'm getting nothing.
'I'm getting nothing and they start jeering and cheering, "Off! Off! Off!" One bloke goes, "I'll pay you to leave the stage now". I go, "no, I ain't going because I won't get paid for this gig. Unless you go higher, I'm not leaving".
'So then, they all start chipping in to a whip-round while my gig's going on, so I'm basically hosting my own auction – auctioning myself to leave the stage.
'They get this whip-round in and it's a fortune. It was more than I'd get paid for the gig. They said, "It's got to go to charity."
'Absolutely not! I'll stay and do my time.'
He added that as he wound up the gig 'I told them all to do one. As I leave, I'm sort of shaking and the adrenaline's pumping.
'Then the organiser goes, "Where are you going?" I'm like, "home".
'Then she goes, "no, you're booked to host the awards". So I had to go back out to one of the biggest, ironic, sarcastic cheers I've ever heard.
'That was character building, I think they call it. Horrible - excruciatingly humiliating is the truth.'
Listen to Arthanayake's show – which also featured Lenny Henry as another guest – on BBC Sounds
Published: 15 Oct 2021
Recent Punching Up
What do you think?