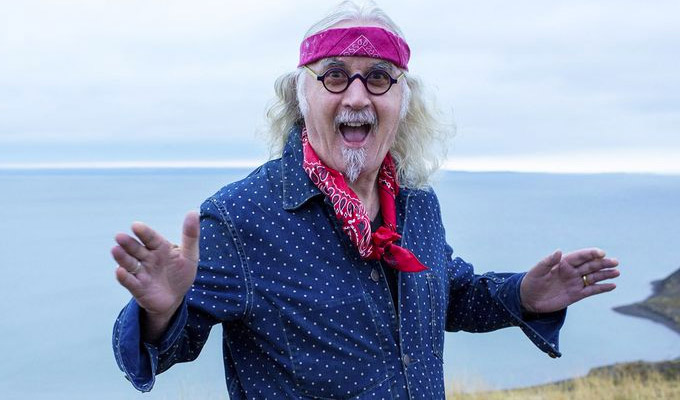 'This is an accent, not a speech impediment!'
Billy Connolly has told of his troubles writing his new autobiography – because the dictation software he uses cannot understand his Glaswegian accent,
The comedian's Parkinson's disease means he now finds it difficult to physically write, so as turned to his phone to help,
Speaking to Graham Norton on his BBC One talk show tonight, the Big Yin says: '"I have lost the ability to write, and it breaks my heart as I used to love writing letters to people.
'My writing went down the Swannee and is totally illegible, so I had to find a way to record everything but then the recorder didn't understand my accent so it kept collapsing and my family would have to sort it – it was a club effort!'
Talking about living with his disease from his home in Florida, the 78-year-old says: 'I'm doing OK and have good days and bad days.
'It's creeping up on me and it never lets go. I walk like a drunk man and have to have help. So, life is different, but it is good.'
Connolly also discussed about the process of writing the book within its pages.
He said: 'I've been writing this book by dictation, recording my thoughts into something called Otter on my phone.
'I thought it would be simple. I thought it would automatically type everything up for me, but it turns out Otter has never heard a Glasgow accent in its fucking life and has no idea how to transcribe it, so I had to get my daughters to slave away deciphering the whole thing.
'This kind of problem plagues Scottish people when they are talking into their TV remotes, in voice-activated elevators, and when trying to use automated phone systems.
'It's extremely irritating. Will someone please tell Otter this is an accent, not a fucking speech impediment?'
Sir Lenny Henry is also on Norton's show, talking about his first young adult novel, The Boy With Wings.
He said: 'It was my lockdown project and good fun to write. It's a sort of superhero origins story – basically I opened my head and poured out everything I remembered about comics. There is a lot of me in the book – I was bullied at school, and I wish I had those superpowers.'
• The Graham Norton Show is on BBC One at 10.35pm tonight
• Windswept And Interesting and The Boy With Wings are also available from Amazon.
Published: 15 Oct 2021
Recent Punching Up
What do you think?