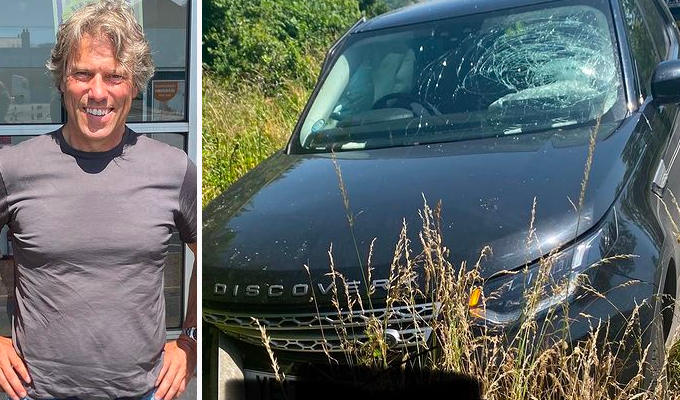 Why did the chicken cross the road... and cause John Bishop to crash?
John Bishop has revealed that he was in a road accident while trying to avoid another vehicle that was swerving to bypass a 'big chicken'.
He tweeted a picture of his Land Rover Discovery in the verge with a smashed windscreen, but said no one was hurt in the accident, which happened in South Wales as he was driving to catch a ferry to Ireland.
Writing on Instagram last night, he told his 737,000 followers: 'To avoid a car that was swerving to avoid a "big chicken" as I overtook I ended up like this.
'Nobody was hurt thanks to @landrover_uk being brilliant and no oncoming traffic.
'I missed my ferry but went on as a foot passenger on a later one thank to James and Tony from @dyfedpowyspolice.
'Amazing how helpful people can be when you need them and thanks to the other drivers for staying including Andrew who I think sadly hit the "big chicken" anyway.'
The comic posed for a picture with police officers, and the force replied saying: 'Hi John, pleased that you have arrived safe, take care!'
Published: 21 Jul 2021
What do you think?