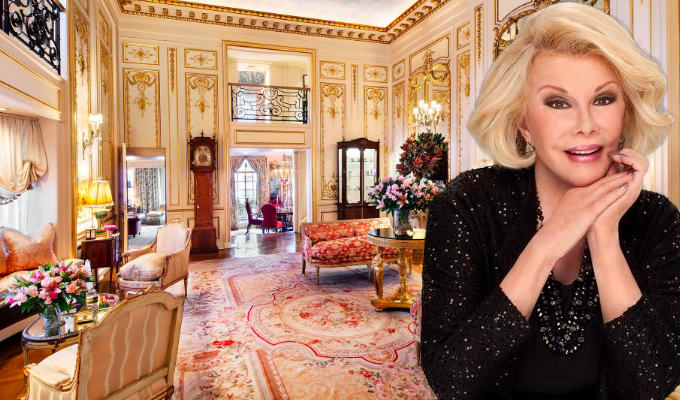 Look inside Joan Rivers' $38m New York penthouse
Joan Rivers described the decor of her lavish New York penthouse as 'what Marie Antoinette would have done, if she had money'.
And now it can be yours, too… if you have the money.
Her former four-bedroom Upper East Side apartment has just come on the market for $38million.
But although she decorated the home to her extravagant taste, there was one feature of the home she hated: the ghost of a former owner, Mrs. Spencer. The comic said the spirit was so restless she once bit the heads off the cherubs on a chandelier.
'It was just very strange,' Rivers said on a 2019 episode of Celebrity Ghost Stories. 'The apartment was cold. I could never get any of my electrical things to work correctly.'
When she complained to the doorman, he said: 'I guess Mrs. Spencer is back.'
So Rivers engaged a voodoo priestess from Louisiana to eradicate the spirit, and give her peace.
The Louis XIV-inspired apartment also hosted some more welcome guests, including Princess Diana, Nancy Reagan amd Martha Stewart.
The apartment first went on the market after her death in 2014, for $28 million, and was reportedly snapped up by a Middle Eastern buyer.
Originally, it had been designed for socialites John and Alice Troth Drexel in 1903 by the Gilded Age architect Horace Trumbauer. Rivers bought it in 1987, a year after her husband Edgar Rosenberg's death, when she moved back to her home state from Los Angeles.
A private elevator entry hall leads to a dramatic two-story gallery and living room, each with a wood-burning fireplace. The reception rooms have soaring 23ft ceilings and parquets flooring. There's a corner-paneled library and a formal dining room, with ornate 18th-century French panels and more fireplaces, as well as a terrace with views of Central Park.
As well as the $38million price tag, the owner will have to pay $16,800 a month in service charges and $11,000 in tax.
The property has just been featured on TopTenRealEstateDeals.com and the listing agent is Dolly Lenz Real Estate.
Published: 25 May 2021
Recent Punching Up
What do you think?