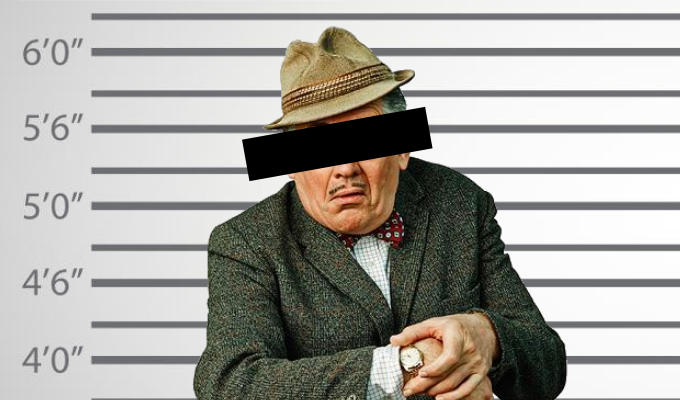 Is this the real H?
Some of Line Of Duty's 12.8million viewers were left slightly disappointed at last night's finale, when the bent copper once known as H was unveiled as bungling DCI Ian Buckells, and not a villainous mastermind.
But could there be a powerful criminal puppetmaster behind the scenes that has so far eluded detection by AC-12?
Chortle has discovered compelling evidence that earlier in his career the hapless officer investigated a suspect known as 'Arthur The Hat', who was accused of being a member of an organised criminal gang who was nobbling juries.
Yet although the subsequent inquiry brought down a corrupt judge, this savvy operator thought to be behind a network of criminal activity never faced justice.
Now we can reveal that suspect was none other than:… Count Arthur Strong.
What we're trying to say is that Nigel Boyle, the actor who plays DCI Buckles in BBC One's runaway hit, appeared in a 2017 episode of the sitcom playing another copper, called Miller.
He and his colleague were investigating Count Arthur, the alias of Steve Delaney, who had been seen handing an envelope to his friend Michael (Rory Kinnear), who was serving on a jury.
But, after a wire-tap (above) their inquiries eventually turned to another gangster, who had a judge in his pocket.
Boyle has appeared in several comedies in his career, playing a barman who refused to serve Will a drink in a 2008 episode of The Inbetweeners (below); one of Mark's JLB colleagues in a 2007 episode of Peep Show and as Adam Rogers in two episodes of ITV comedy Job Lot.
Mugshot backdop: Vectors by Vecteezy
Published: 3 May 2021
Recent Punching Up
What do you think?