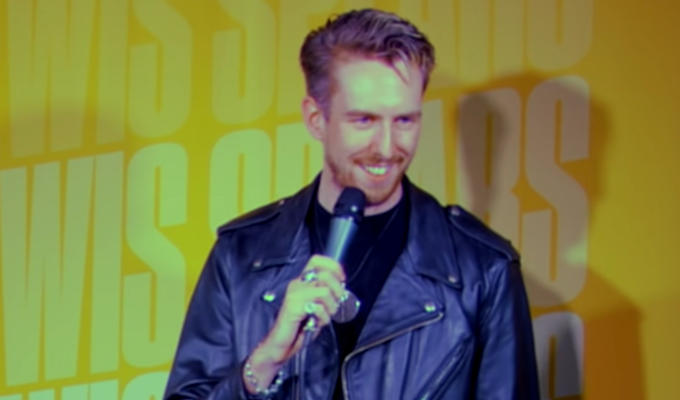 Too soon? Comic filmed joking about Prince Philip unaware he'd died
An Australian comedian has been filmed telling a joke about Prince Philip on stage, unaware his death had just been announced.
Lewis Spears was doing a routine about the Royal Family being out of touch and racist, when he launched a c-bomb against the Duke of Edinburgh.
He told the audience at the Melbourne International Comedy Festival on Friday night: 'Have you seen Prince Philip? That cunt is 3,000 years old. I'm pretty sure he invented racism.'
Shocked voices from the crowd are then heard to say: 'He died tonight' and 'he just died' - before someone passed him a phone to show him the story.
Apparently many in the audience were also unaware of the news, which broke at 9pm Melbourne time – during the show – as the revelation prompted shocked laughter.
'Can I just say, a bit overdue,' he added, before suggesting the Prince had actually died ten years ago.
But the news did not deter him from doing the rest of the Royal Family routine, including gags about Philip's racism, Royal Family inbreeding, and joke about the way the Duke looked as he left hospital ('that photo looks like he went in for an X-ray and they left him in for a week') – to the delight of the crowd.
In a follow-up video, Spears, 27, revealed that he had shared the video with the media himself, pretending to be a 'disgusted boomer' outraged by the gag, in a bid to make it go viral
He boasted about how the clip had indeed been picked up by media around the world. He added that there was a distinct difference in the way he was treated by Australian media, who were 'quite nice' about him, and English media outlets, which were 'very angry'.
Spears, who has a track record of planting fake stories with the media, markets himself as a 'dangerous' comedian that the media wants to cancel and boasts on his website about receiving thousands of death threats from the 'easily offended'.
Published: 13 Apr 2021
Recent Punching Up
What do you think?