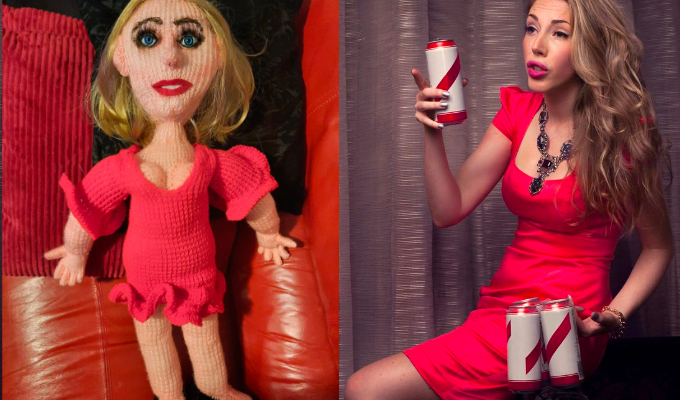 It's Katherine Ry-yarn!
racy Holdsworth unveiled her latest, of Katherine Ryan, on Twitter today, with the comedian retweeting the image, saying: 'These are my legs - won't lie.'
TA comedy fan has been spending lockdown knitting dolls of her favourite stand-ups.
These are my legs - won't lie. https://t.co/KO4YXBFXLe

— Katherine Ryan (@Kathbum) February 14, 2021
It comes just a few days after she made a similar doll of Jayde Adams, who commented: 'This is bloody great.'
Holdsworth, from Bradford, started making the likenesses several years ago.
Her most famous is a doll of Jimmy Carr, which the comic takes on tour with him – regularly posting updates of where he's playing, with 'mini Jimmy' posing in front of theatres and landmarks around the UK, and, indeed, the world:
After visiting 220 cities and towns, in 29 countries over the past two years, I feel like I've had the stuffing knocked out of me.
There's only one thing for it...a Doctor Who style regeneration.
Meet the new Woolly Jimmy. pic.twitter.com/LTmXQQUz8M

— Jimmy Carr (@jimmycarr) September 27, 2019
Holdsworth's other creations include a doll of Jack Whitehall - complete with genitals
Thank you for passing it on @fdarena https://t.co/ElSAfy5awr

— Tracy Holdsworth (@lifesawitch) February 28, 2017
And Joel Dommett
This lady knitted me! She has perfectly captured me in my favourite pose - 'petrified and backed into a corner' https://t.co/XXLCgX3I4O

— Joel Dommett (@joeldommett) January 17, 2017
Tim Minchin:
Watching @timminchin
Upright made me rematch So f**King rock pic.twitter.com/gMNsRMDMP2

— Tracy Holdsworth (@lifesawitch) February 11, 2021
Sarah Millican:
@SarahMillican75 pic.twitter.com/5jap3JARxm

— Tracy Holdsworth (@lifesawitch) November 10, 2018
Chris Ramsey:
@IAmChrisRamsey @Rosemarino pic.twitter.com/iuMAmiMTfi

— Tracy Holdsworth (@lifesawitch) May 23, 2018
Published: 14 Feb 2021
What do you think?