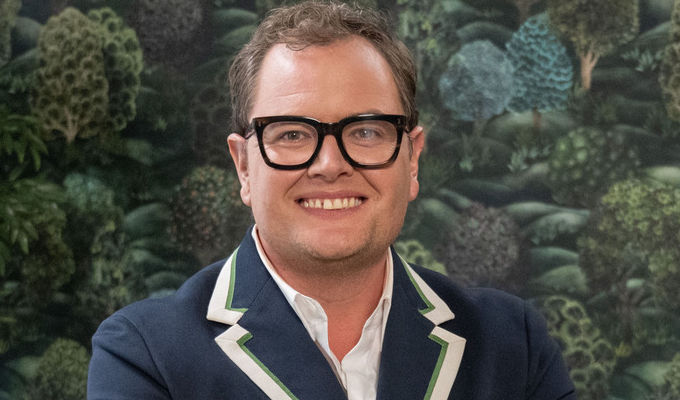 Alan Carr: I was injured by a shark
Alan Carr has revealed that he was injured by a shark… without going anywhere near the ocean.
Unlikely as it sounds, the comic was doing star jumps in his home when he bashed his head on a giant Perspex shark's head that his husband, Paul Drayton, had bought as a design feature.
Carr blamed his other half for not putting the unusual fixture up properly.
'I did a star jump and knocked it off the wall,' he recalled. 'It was really heavy and it landed on my head so I must admit when I was rubbing my head, looking down at this grinning shark I did think, "What on earth was HE thinking?"
The comedian's story came as he was discussing his attitude to decorating as he replaces Fearne Cotton as host of BBC Two's Interior Design Masters from next week.
But he admits he isn't one for bold design choices, saying: 'I am in complete awe of interior designers who just go for it! I'm just not that brave.
'Get me on stage at the O2 Arena to perform to thousands, no worries but get me to decide on a roll of wallpaper I come out in hives. Thank god my partner Paul is creative when it comes to interiors
'I will consider a potential lampshade for weeks on end whereas he will have no qualms of barging through the door with a bit of taxidermy tucked under his arm or something "rescued" from a flea market and stick it up on the wall.
'I'm getting better at pushing my creative boundaries and recently I've become a sucker for a tile. I decorated the downstairs toilet with a gorgeous Bert and May tile and a flamboyant wallpaper, and do you know what, it worked!! So now I'm feeling a bit more confident I'm doing our main bathroom now – wish me luck!'
• Interior Design Masters returns to BBC Two at 8pm on Tuesday February 2.
Published: 26 Jan 2021
Recent Punching Up
What do you think?