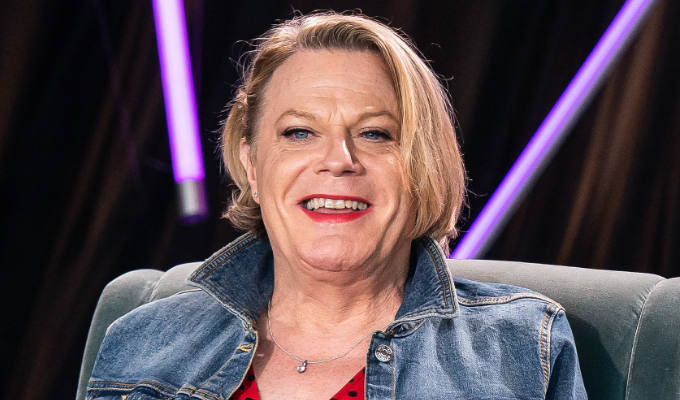 Eddie Izzard: Call me 'she'
Fans and fellow comics are congratulating Eddie Izzard for switching to female pronouns.
Last week, contestants on Sky Arts's Portrait Artist Of The Year, used the words 'she' and 'her' to describe the 58-year-old comic.
She said on the show: 'I'm gender fluid. I just want to be based in girl mode from now on' – adding that it 'feels very positive' to use the female pronouns.
And the news has filtered through to social media, where fans have posted supportive messages.
Shappi Khorsandi said: 'I see Eddie Izzard is trending. I can't tell you what she means to me as a comic. Rocked my comedy world when I was a teen and beyond. Changed everything, made room. I love her and this morning I'm very happy for her. '
Fellow comic Sofie Hagen tweeted: 'I've been reading people's reactions to Eddie Izzard using she/her pronouns and I LOVE LOVE LOVE this collective gender euphoria we all feel towards her. Either because we feel represented, because we know how freeing it feels saying it out loud or just because we're nice people.'
While Izzard was subject to inevitable trolling, other comments included: 'Just discovered Eddie Izzard now uses she/her pronouns.love you Eddie, thanks for being a trail blazer'; 'Eddie Izzard is the first comic I ever saw live and also one of the first people with a public presence who made me feel kind of ok about being a queer kid who wasn't sure where I fit in and I am so so happy for her'; and 'Eddie Izzard has always been, and will always be, a trans legend of epic proportions. Can't wait to see what she does next.'
Izzard's new pronoun preference first came to light last year, when the comic picked up an honorary degree from Swansea University.
At the time she told The Mail On Sunday: 'When I'm in girl mode I am happy to be known as "she" and when I'm in boy-mode, I am happy to be known as "he" But I am equally happy to be referred to as Eddie or "Hey mate".'
Izzard long identified as a transvestite, and variously performed in traditionally female and male clothing from her early days on the circuit, but more latterly has called herself simply 'trans'.
Portrait Artist Of The Year is repeated on Sky Arts at 4pm today.
Published: 20 Dec 2020
What do you think?