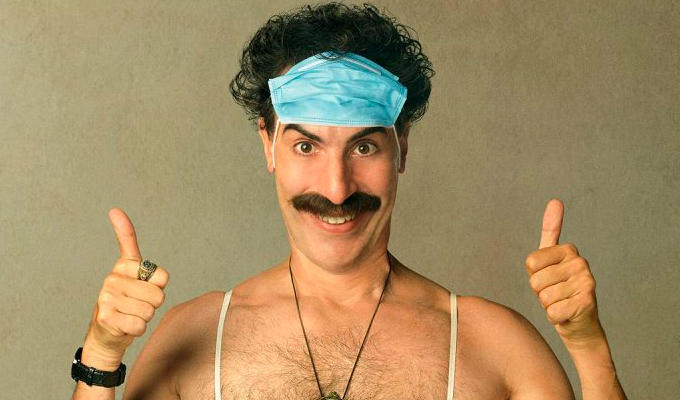 How Sacha Baron Cohen ended up working in a restaurant kitchen
It sounds like a fable for our times: to work hard and fearlessly on a comedy career for decades, only to end up working in a kitchen.
But Sacha Baron Cohen says he was 'lucky' to wind up working for a few hours in a New York restaurant.
The 6ft 3in comedian once had ambitions to be a chef, but was rejected by Raymond Blanc for being too tall.
But he got a chance to sample that life at the triple-Michelin-starred Le Bernardin recently.
In a major interview with the New York Times to promote the release of the Borat sequel on Amazon Prime later this week, Cohen explained: 'I finished high school and there was a chef called Raymond Blanc who got a Michelin star.
'I went over to his restaurant, called Le Manoir aux Quat'Saisons, and I asked to work there and he declined. He said I was too tall to work in the kitchen, and then I gave up my dream of becoming a chef.
'Recently, I was lucky enough to work in the kitchen at Le Bernardin in New York. I bumped into Eric Ripert and I told him I want to be a chef and he goes, "Come over."
'It was amazing, because me and my brother spent three hours in the kitchen during their dinner service. It's incredibly tiring and then we're in the way. I felt very bad about it.'
He also revealed he made his dad pose as a famous chef at his wedding to Isla Fisheer to throw the paparazzi off the scent.
He said: 'We had a secret wedding in Paris. And the ruse was that it was my father's 70th birthday and that he was a famous chef in England. That was how we avoided having photographers at the wedding.
'I trained him up to be in character. He said that his favurrite dish that he created was L'oeuf Scrambled.'
Published: 19 Oct 2020
What do you think?