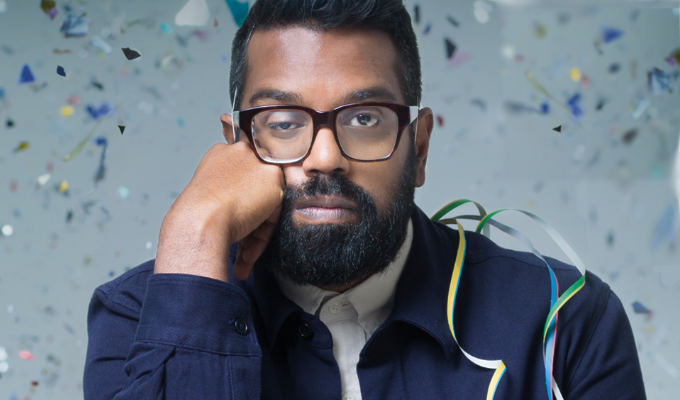 Romesh Ranganathan speaks about his childhood turmoil
Romesh Ranganathan has opened up about how seismic changes in his life when he was a child ultimately drove him to comedy.
The stand-up was about 12 when his parents hit financial and relationship problems – and then his father was arrested for fraud, and subsequently sentenced to two years in jail.
But he says that these tumultuous events, all of which happened in a three month period, led him to see the world differently, and led him to comedy.
'Three things happened very, very quickly,' he told DJ Annie Mac on her podcast Changes.
'One was that our house got repossessed because my my mum and dad couldn't keep up the payments anymore.
'My mum also found out that my dad had been seeing another woman for quite a while so their relationship was thrown into turmoil. My dad got arrested and sent to prison.
'Those three things happened very, very quickly. It went from being you know, proper textbook, comfortable childhood. And then everything just went very, very quickly. Kind of got turned upside-down.
Ranganathan's parents, who came to the UK from Sri Lanka in the 1970s, sent him to the private Reigate Grammar School in Surrey. His younger brother Dinesh was also in a fee-paying school
Despite having to move the family into a bed and breakfast, the comic said: 'I think my mum and dad were still trying to figure out desperately a way to keep us at the schools we were at.
'But it was too late by then. Accountants were turning up to my lessons at school and giving me last demands because my parents had fallen so far into arrears at this school.
'I was in this two-world thing where I was still at that school but living in a bed and breakfast. Already being at that school and coming from Crawley, there's a bit of a stigma attached, everybody at the school thought Crawley people are like common.
'So I absolutely did not want anyone at the school to find out this has happened because they already think that I'm a working class. You know, I was worried about that.'
He admitted the pressure was such that when a friend's mum offered to take him home following an after-school play he was so embarrassed about living at a B&B that he pretended to live somewhere else.
'It was like that scene where Rodney from Only Fools and Horses gets dropped off at a different house because he's too ashamed to show Casandra where he really lives,' he told the presenter, whose full surname is Macmanus.
'That's what I did. I asked them to drop me off at this house down the road and then waited on the driveway for them to go.'
He later moved to a comprehensive – Hazelwick School in Crawley – which he subsequently ended up teaching at. And he said those experiences have him and his wife Leesa 'a lifelong belief in delivering high quality, comprehensive education' – which meant they would only ever send their children to a state school.
'I saw how committed those teachers were and I saw how challenging some of those experiences those teachers had,' he said. 'You're dealing with kids that don't have a great home life. So they give the teacher shit at school. I saw the way the teachers dealt with that. It made me very passionate about comprehensive education.'
Ranganathan went on to explain how his experiences drove him to comedy, saying: 'I don't think I would have been a comedian if I hadn't had gone through what I've gone through. I do think there is something in it.
'You look at the very best comedians, the people that really, really have changed it or amazing at what they do and they're just wired slightly incorrectly.
'The best comedy routine is when somebody takes something you know and looks at in a completely different way. And in order to be able to do that, you have to have a brain that is wired like that. That is what pain does, it kind of spins you out a little bit, kind of puts you in a different mindset.
Ranganathan also spoke about working as a comic – and the terrible feeling when a joke bombs. 'It's disgusting. It's absolutely disgusting,' he said.
'When you're trying out new material, dying is part of the experience because I've got to write new stuff and I've gotta go "look guys, some of this might be shit". It's like going to the gym. You've gotta work this stuff up so you can get better. But it still feels the same, it still feels like the first time you died on your arse and you don't get used to it, it doesn't get easier.
'It's such a narcissistic endeavour, stand-up, because you want the audience every 30 second to tell you they love you by laughing. And so when they stop laughing, what they're saying is we don't like you. It is brutal, it can happen now, death is not beyond me. I mean it's not like I'm absolutely safe.
Listen to Changes With Annie Macmanus here.
Published: 16 Sep 2020
What do you think?