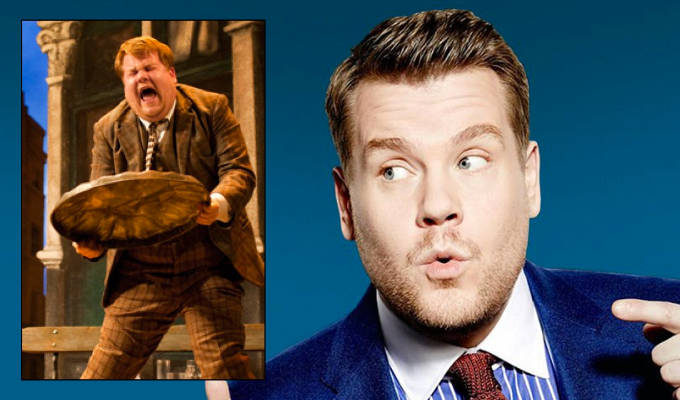 Being smacked in the head every night has its consequences....
James Corden has revealed that being repeatedly being hit in the head night after night has its consequences.
While starring in One Man Two Guvnors on the West End and Broadway stages, the comic had to beat himself up with the lid of a dustbin each day.
But now he has said that he injured his eye one night – which is why he had to take time off from his CBS talk show last month to undergo surgery.
Speaking onThe Ellen DeGeneres Show, 41-year-old Corden said: 'In 2012, I was doing a play in New York, and I used to do this bit where I'd hit myself in the head with a trashcan lid and one night I injured my eye.
'Not really badly, but I had to go and see a doctor. He gave me some things and he said, 'Look, over some time, it will heal.' And it did.'
'[But] about a year ago it flared up again – this sort of little scratch on my eyeball, so, I'd been seeing doctors a lot.'
He said that about three weeks ago, things got even worse, when he woke up and I couldn't open his eye, so decided to call his doctor, who said he needed surgery.
Corden told the doctor he had to film The Late Late Show that day, to which the doctor responded, 'No you don't' – saying he'd need at least a week off.
Corden said he was 'grateful' for the short notice, because he didn't have time to dread it.
Describing the surgery he said: 'They like clamp your eye open… and then you can see what they're doing, but you can't feel it because it's numb.'
Published: 29 May 2020
What do you think?