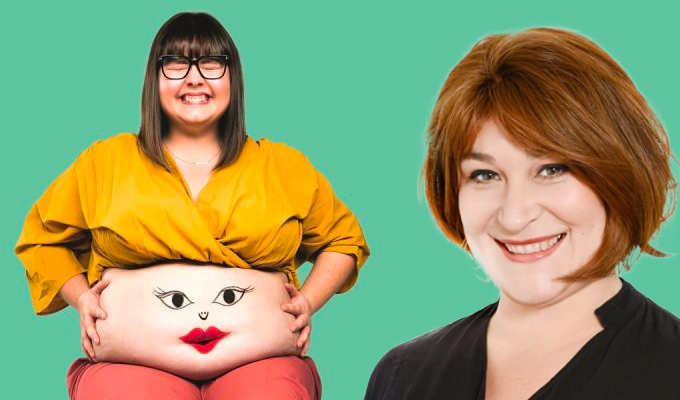 Oh no, Sarah Vine has my book!
When she posted a photograph of her bookshelf on social media, Sarah Vine acknowledged it would be a 'very special treat for my trolls'.
And indeed in proved, with commentators pointing out that the Daily Mail columnist – and wife of Michael Gove – includes in her collection a book by discredited Holocaust-denying historian David Irving and, perhaps less surprisingly, Ayn Rand's paean to free-market capitalism, Atlas Shrugged.
Oh, but before I go, here's another random selection. Have fun getting your knickers in a twist about PG Wodehouse snuggled up to @campbellclaret pic.twitter.com/Dl9PULQEuT

— Sarah Vine (@WestminsterWAG) May 4, 2020
But more of a revelation is that among all the political biographies is one book by a comedian: Sofie Hagen's Happy Fat, about body image and fat-shaming.
And the London-based Dane doesn't exactly seem chuffed to find herself sharing shelf space with books that link IQ to race, tweeting that she was 'planning a rescue mission to get my book away from Michael Gove's book shelf'.
Planning a rescue mission to get my book away from Michael Gove's book shelf.

— Sofie Hagen (@SofieHagen) May 4, 2020
Published a year ago, Happy Fat was described as 'part memoir, part social commentary,' in which Hagen 'shares how she removed fatphobic influences from her daily life and found self-acceptance in a world where judgement and discrimination are rife'.
In 2018 Vine publicly criticised Hagen over her attack on Cancer Research campaign which highlighted the link between obesity and cancer, saying: 'The fact that Ms Hagen is fairly chunky herself probably explains why she was so upset; nonetheless, there was nothing personal about the nature of the Cancer Research UK advert, merely a bald statement of fact, intended to save lives.'
And she added that being fat-shamed 'worked for me', writing: '[My doctor] told me to my face that I was fat, and I accepted his recommendation that I lose 3st for what it was — a genuine expression of his medical concern.'
But later that year she seemed to have something of a change of heart, describing the 'self-loathing' she felt being amplified by society's attitudes to the overweight as 'a moral failing, a self-inflicted illness that marks the person out as weak, shameful and in some way deserving of their suffering. Until society revises that belief, we will never overcome the obesity epidemic in this country.'
Published: 4 May 2020
Recent Punching Up
What do you think?