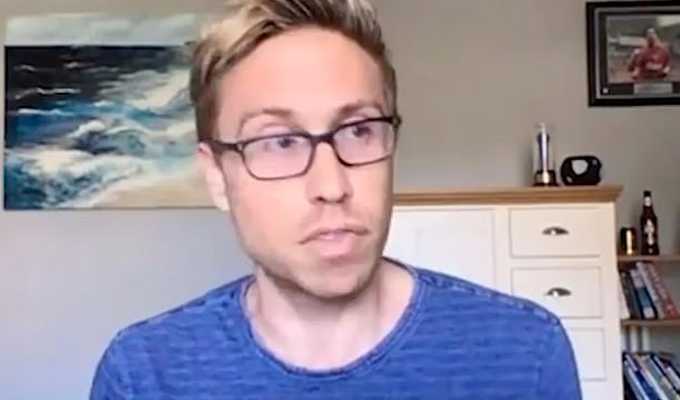 It's the universe saying, "don't get ahead of yourself"
Russell Howard has spoken of his 'heartbreak' at being forced to live away from his wife during lockdown.
The comedian is married to Cerys, a geriatric doctor who was on sabbatical but returned to work to help during the pandemic.
Meanwhile Howard, 40, returned to Bath, where he's holed up with mum Ninette – who has appeared on his TV shows – and dad Dave.
Speaking to Channel's Sunday Brunch from Somerset, the comic said of his wife: 'She's a frontline doctor. And she's also got a couple of doctors living with her, who have got elderly relatives, so it kind of felt like the most sensible thing to do was to, unfortunately, live apart. It's heartbreaking but it's for the greater good.'
Of living at his parental home, he lamented: 'It's brutal. On my 40th birthday I was meant to be doing an arena in Amsterdam and I slept in my teenage bed.
'It was like the universe's way of saying, "don't get ahead of yourself", so yeah it's fairly strange but it could be a lot worse. I'm very lucky that I still get to make a TV show.'
Howard married his long-time partner, Cerys Morgan, in June last year.
Earlier this month, he raised eyebrows by swigging from a can of cider on Lorraine Kelly's Good Morning Britain show just after 9am – though he later revealed it was for a bet with his brother, whose stag do had been cancelled because of lockdown.
Published: 27 Apr 2020
What do you think?