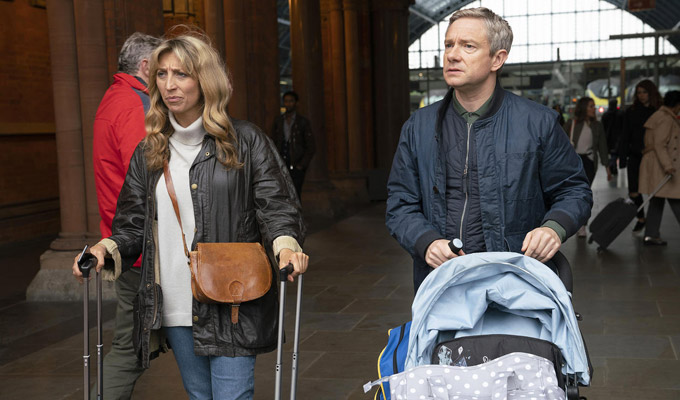 Cover your ears, kids...
Sky's new parenting sitcom Breeders is almost defined by the torrent of expletives coming from the mouths of Martin Freeman and Daisy Haggard as their characters struggle with parenting.
Now the stars have revealed that producers went to special lengths to ensure the child actors in the sitcom weren't exposed to the full force of the swearing – giving them headphones to blank out the four-letter words.
'There were two versions of the script – a mild one for in front of the kids and then another sweary version that they had to wear headphones for,' Freeman tells Graham Norton on his BBC One chat show tonight.
But it didn't always work, he admits: 'Daisy and I are quite sweary so sometimes a grown-up word would slip in and the kids would delight in it. Luckily their mums were very forgiving.'
He adds that the show 'is not cuddly. We thought that there was room in the world for a comedy that was still a comedy but is quite dark and unflinching about the harder parts of being a parent in a family situation.'
And Haggard add that at times the script was 'so surreal that I got all completely giggly and could barely do it'.
Last month, Chortle revealed that a second series of the comedy is in the works.
The Graham Norton show – also featuring Michael Bublé and Michael Sheen – airs on BBC One at 9pm tonight.
Published: 10 Apr 2020
Recent Punching Up
What do you think?