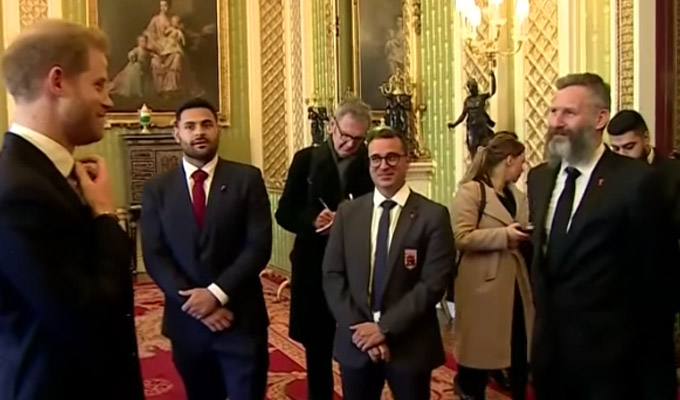 When Harry met hairy
Prince Harry resumed his royal duties today, which included marvelling at Adam Hills' incredible beard.
The Last Leg host has been growing his facial hair until Brexit is concluded, with the middle section of his beard in particular eliciting admiration from the Duke of Sussex for being 'manicured so beautifully'.
'I've actually never seen that before. And I've seen some beards in my time' the Prince told the Australian comic, as the pair were introduced at the draw for the 2021 Rugby League World Cup.
Hills, whose captaincy of the Warrington Wolves in the Physical Disability Rugby League was shown in a Channel 4 documentary last month, told the Prince that he was finally preparing to shave on January 31, the date the UK is supposed to leave Europe.
But when Hills told the sixth in line to the throne that his beard was 'apparently called "the Geoff from Byker Grove"', it appeared neither man truly understood the reference to the youth club leader in the long-running, Newcastle-set children's TV drama.
Harry also offered to appear on Hill's Channel 4 show during their encounter.
Speaking afterwards, the hirsute Hills declared himself impressed by the prince's rugby knowledge, showing 'how much he's focused on the job in hand' and that 'he's got a commitment to rugby league'.
That's certainly a more flattering appraisal of Harry's acumen than features in the upcoming third series of The Windsors.
At a Channel 4 launch event on Tuesday, the channel's director of programmes, Ian Katz, was reportedly delighted with the sitcom's prescience in anticipating the current Royal crisis.
A clip that was shown featuring Kathryn Drysdale as Meghan Markle, and Tom Durant-Pritchard as Harry, contained the following exchange, shot before the royal couple decamped to Canada:
Meghan: I'm fed up of Being commodified by the British press. I want us to relocate to America.
Harry: Okay. Where is it?
Published: 16 Jan 2020
What do you think?