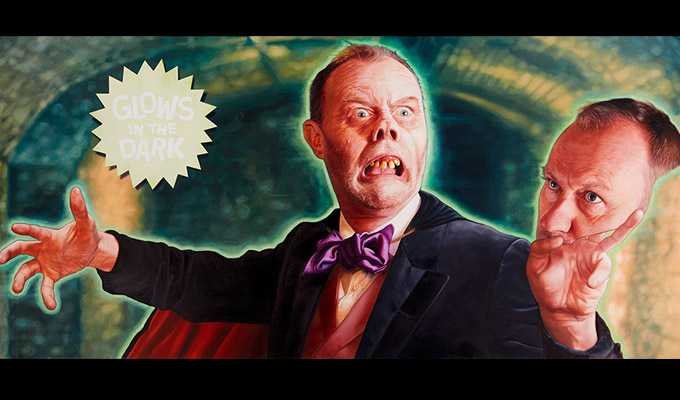 It's Mask Gatiss!
Here's Mark Gatiss as you've never seen him before… as The Phantom of the Opera.
With his porcine snout, he brings to mind The League of Gentlemen's local shopkeepers Tubbs and Edward, themselves a grotesque allusion to Lon Chaney Sr's pig-nosed portrayal of the Phantom in the classic 1925 film.
Gatiss is one of several actors to have posed for artist Joe Simpson's latest exhibition, Act, in which the painter asked the likes of Matt Lucas, Olivia Colman, Michael Sheen and Warwick Davis" 'What role have you always wanted to play but have never got the chance?'
The 'cinematic' oil paintings include Lucas as Don Lockwood from Singin' In The Rain. The Little Britain star grew up loving musicals and his first screen crush was Gene Kelly, prompting him to reject his initial choice of the title role in Annie.
Davis appears as Raymond Chandler's hard-boiled detective Philip Marlowe...
...while Colman is Bess from Lars Von Trier's Breaking The Waves. Despite having only seen the film once, it had such a profound impact on the Oscar-winner and Peep Show star that she says she has never stopped thinking about it.
Sheen claims that he's pretty much played every role he wanted to play. But he loves Maurice Sendack's book Where The Wild Things Are and appears as the story's boy-hero Max, in his own costume that he keeps at home.
Other actors featured in the exhibition include Charlie Cox as William Canfield Jr from Steamboat Bill Jr, a role originally made famous by Buster Keaton; Paddy Considine as RP McMurphy from One Flew Over The Cuckoo's Nest; John Simm as Rick Deckard from Blade Runner; Gugu Mbatha-Raw as Cleopatra and Eleanor Tomlinson as Hilts 'The Cooler King' from The Great Escape.
Gatiss, pictured here with the artist, visited the preserved Phantom of the Opera set and inspected Chaney Sr's make-up for his 2010 BBC Four series A History of Horror. His adaptation of Dracula aired on BBC One this month.
Act opens at the Stockport War Memorial Gallery on January 25 and runs till March 3; is at the Oriel Gallery, Theatre Clywd in North Wales between March 7 and April 18 and the Alfred East Art Gallery in Kettering Museum and Art Gallery from May 2 to June 13. Further UK dates will be announced here.
A documentary about the exhibition is also being made by Saffron Cherry TV, who previously made a film for Sky Arts' Passions season on Julian Clary's love of Noel Coward.
Here is a time-lapse video of Simpson painting Gatiss' glow-in-the-dark Phantom portrait.
Published: 16 Jan 2020