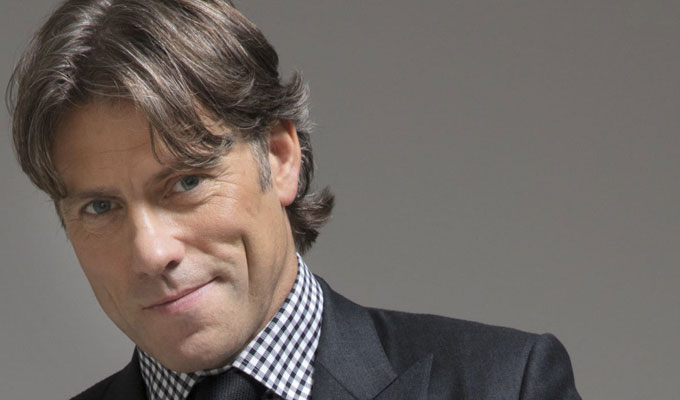 Don't give up your day job!
Making the leap to becoming a full-time comic is a huge step for anyone. But for John Bishop, who had a family of three and a lucrative job as a sales director at a pharmaceutical firm, it was a massive gamble – and one his first agent advised him not to make.
What may be more surprising was that the agent was the late Addison Creswell from Off The Kerb, a larger-than-life character known for his extravagance – and his ambition.
'Addison was the big guy, Addison was the man' Bishop told fellow comic James Gill on his podcast. 'I only met him once and that was when Off The Kerb were telling me to leave my job.
'I got a phone call saying "look, we think you're really good, you can do this, but you need to leave your job".
'I said, "I can't do this".'
So the agency told him to meet Creswell. 'And I thought well, this was a big deal, I've had a call from the emperor.'
Waiting at Off The Kerb's London office, 'this fella comes steaming in, in a purple suit. And he went "John, John, I facking like you, you Scouser, I like you. Leave your fucking job!"
'I went: "Mate, I can't, I earn too much."'
'"What do you earn, 25 grand?"'
'"No.'"
'"35?"'
'"No.'"
'"45?"'
'"No.'"
'He said "55?"
'"No.'"
'He said "keep your fucking job!" and walked out. And that was the end of the meeting … literally it lasted 90 seconds.'
Bishop subsequently signed with Lisa Thomas and went full-time in 2006, getting his big television break on Michael McIntyre's Comedy Roadshow and Live At The Apollo three years later, both executive produced by Cresswell. The week before his Roadshow debut he'd performed to 19 people at the Leicester Comedy Festival.
Bishop also reflected that Creswell might have blackballed him after signing with a rival agent 'but he didn't because he loved comedy'.
Published: 27 Nov 2019
Recent Punching Up
What do you think?