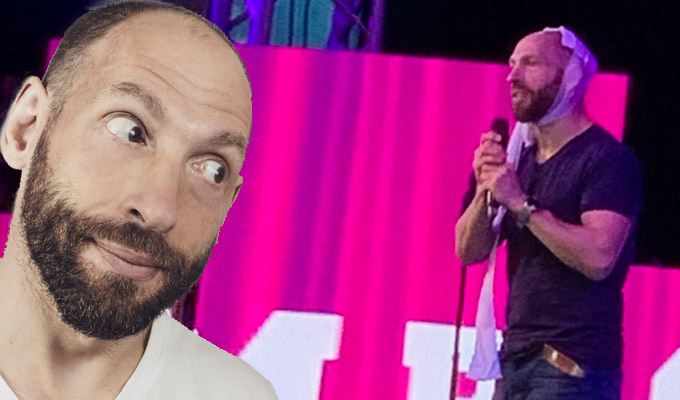 Bet that Bloomin' hurt
Stand-up Adam Bloom cracked more than jokes yesterday – splitting his head open as he jogged on to the stage.
He drew blood as he smashed his skill on a hefty banner with a sickening thud that caused the audience at Butlin's in Skegness to gasp with horror.
But he made light of the situation, saying: 'This is suffering for my art, people.'
He got the audience to tell him how bad the bleeding was, then someone ran from the back of the venue with some paper towel to fashion a makeshift bandage.
Then he came up with a better idea to absorb the blood, asking the audience, 'has anyone got a tampon?' – which someone duly threw at him, before a proper plaster was obtained.
Bloom told Chortle: 'I was advised not to take the plaster off because there was a flap of skin' – and he finished the gig as pictured above.
The whole incident was, of course, caught on camera:
Published: 11 Nov 2019
Recent Punching Up
What do you think?