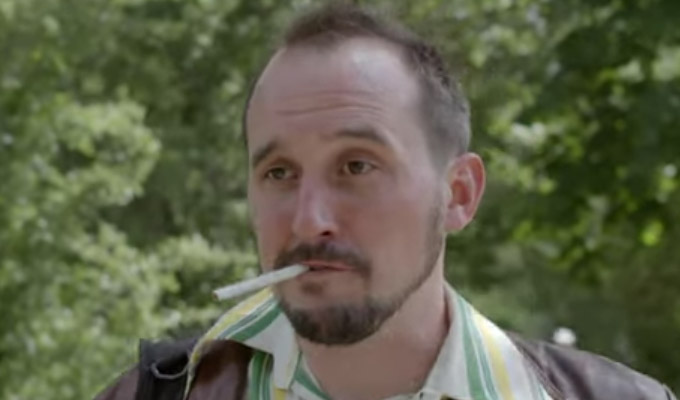 'My lungs look like the meat from a late-night kebab shop'
Stand-up Phil Ellis as the face of a public health campaign seems about as likely as the world's largest tobacco firm funding an anti-smoking initiative.
But the comic has indeed made a film about kicking the habit – paid for by industry giant Philip Morris International.
In his ten-minute documentary, the 37-year-old tells how he began smoking at 20, when 'I used to have a fringe, sunglasses and dreams'.
He averages 40 cigarettes a day, he explains, 'depending on sadness and alcohol consumption ... I reckon my lungs look like the meat you would buy from a very late-night kebab shop.
'My dating app description has been in the past, "please fix me, I'm a failure, I'm living a house with six other people, none of which know how to change a lightbulb".'
The film also includes footage of him performing stand-up about his smoking at the Moth Club in London, as well as featuring chats with a personal trainer, life coach and his parents.
Although the project is dryly funny, with self-conscious nods to Ellis's 2014 Edinburgh Comedy Award-winning show Funz and Gamez, the comic's father shares his concern that he wants none of his sons to die before him.
The short – which has attracted just 200 views in the three weeks it has been on YouTube – is part of Change Incorporated, a £5million deal between media company Vice and Philip Morris International, whose brands include Malboro. The campaign has also followed fellow stand-ups Jayde Adams, Sunil Patel and Sarah Callaghan in their efforts to quit smoking.
Philip Morris's funding of Change Incorporated is seen as part of their global push to promote e-cigarettes, in which they have a considerable financial stake. Vice claims editorial independence from Phillip Morris, but some subjects of their films have complained that they've felt duped by the firm's involvement.
Here is Ellis's short:
Published: 18 Oct 2019
Recent Punching Up
What do you think?