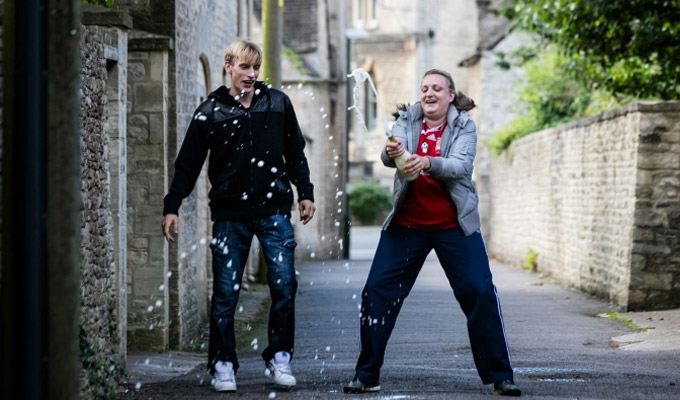 'We ruined our old teacher's life. Sorry'
The siblings behind BBC comedy This Country have apologised for making the life of one of their old teachers a misery – after using his real name in the show.
In the opening episode of the mockumentary, Kerry and Kurtan Mucklowe are seen celebrating the death of their former teacher, Mr Perkins.
They run through the streets in joy and even make up a song whose only lyrics are 'Mr Perkins is a prick, all day long'.
Mr Perkins is a pr*ck. #thiscountry pic.twitter.com/BE4eWSDhCE

— BBC Three (@bbcthree) July 6, 2017
But Mr Perkins is a real teacher at Cirencester Deer Park School in the Cotswolds, who taught woodwork to the show's creators Charlie and Daisy May Cooper when they were there.
Speaking at the Cheltenham Literature Festival, Charlie said: 'We forgot to change the name.
'He was a nice guy and it was just saying that Perkins in a West Country accent is very funny. And now all the kids [at school] sing at him "Mr Perkins is a prick." Ruined his life. Sorry."
Daisy May added: 'I went back to my old school and the headmistress took me to one side and said, "Mr Perkins is dreadfully upset".'
In comments reported by the festival's sponsor, The Times, the pair revealed that their producer panicked halfway through the screening of the first series in 2017 when he realised that names had not been changed.
And even altering some were not enough to put the real-life inspirations off the scent.
Daisy May said that the real-life Kurtan 'definitely knows' he inspired the character, prompting fears from Charlie that 'he will beat me up, he's quite hard.
However there can be consequences for using people's names in comedies. In 2001, Bolton fire safety officer Keith Laird won £10,000 compensation from Channel 4 because Phoenix Nights featured a character called Keith Lard with the same job as him, even though Peter Kay insisted the likeness was entirely coincidental.
Published: 10 Oct 2019
Recent Punching Up
What do you think?