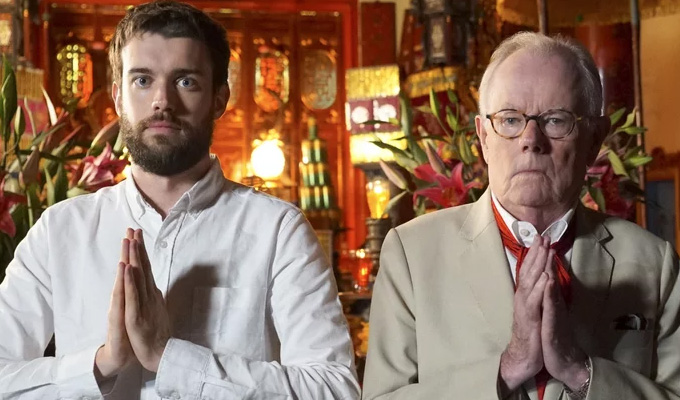 Michael Whitehall: I spent £13,000 making Jack look good
Jack Whitehall owes his looks to a £13,000 makeover paid for by his dad Michael.
At least that's according to Whitehall Snr, who gave a rundown of the money he lavished on his son at a gig last week.
Speaking at a warm-up for last night's London Palladium gig, which was filmed for a TV special, former agent Michael, 79, said he spent £5,000 on dental work; £3,000 to fix his cross-eyed gaze; £2,000 on his ears and £3,000 on elocution lessons.
All that is on top of the £40,000-a-year education the comedian received at Marlborough College in Wiltshire.
According to The Mail on Sunday, Michael said: 'Let me tell you about this. Those teeth of Jack's were a nightmare. They were all sticky-outy. I was like "speak properly, child", so it was off to the first dentist.
'Those teeth were a nightmare, but look at them now, he could do an advertisement for toothpaste. But it cost me £5,000 to fix at that point.
'Then we moved up to the eyes. It was all boss-eyed and he wore these glasses that made him look like Harry Potter's unattractive brother. That cost a fortune as well, £3,000.'
Turning directly to Jack, Michael added: 'Then you had to have grommets in your ears because you were going deaf. I don't know what grommets are but they sounded awful.
'The one thing they were fucking expensive. For a moment I thought 'maybe we just put up with Jack being deaf. There is nothing wrong with being deaf and then I thought no, maybe we should.
'A good £10,000 was spent and then there were the elocution lessons, that involved a lot of work. I went to a person who used to do a lot of elocution for actors. That, out of all of it, was the most expensive gift I have ever given'
Published: 29 Sep 2019
What do you think?