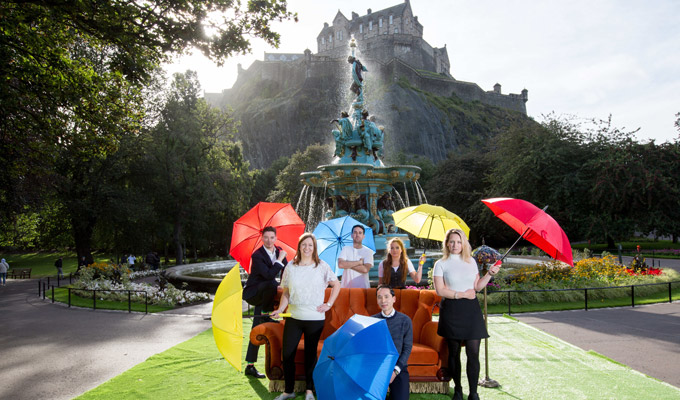 Friends sofa goes on tour!
It's a fairly blatant bid to get the selfie generation to do some free Instagram marketing…but a replica of the Friends sofa is embarking on a world tour.
The photogenic furniture will be visiting the Grand Canyon, the Empire State Building, The Burj Khalifa in Dubai among others this month to mark 25 years of the sitcom.
And in the UK, fans can snap themselves on the sofa at Ross Fountain in Edinburgh today – with the castle as the backdrop. Then it hits Cardiff Castle on Thursday and Potters Field Park next to London's Tower Bridge on Friday.
People will get to 'experience the sofa' – by which we assume the publicists mean 'sit on it' – on a first-come-first-served basis from 10am to 5pm.
And on Sunday it will be installed in one of the pods in the London Eye, just for those who happen to be at the front of the queue when the Friends capsule rolls around.
Meanwhile Comedy Central's FriendsFest, which offers fans the chance to wander around the sets, is heading back to London for a pre-Christmas stint at the Truman Brewery in Brick Lane.
It will be there from November 28 to December 21– and tickets cost an incredible £34.50, here.
Published: 16 Sep 2019
Recent Punching Up
What do you think?