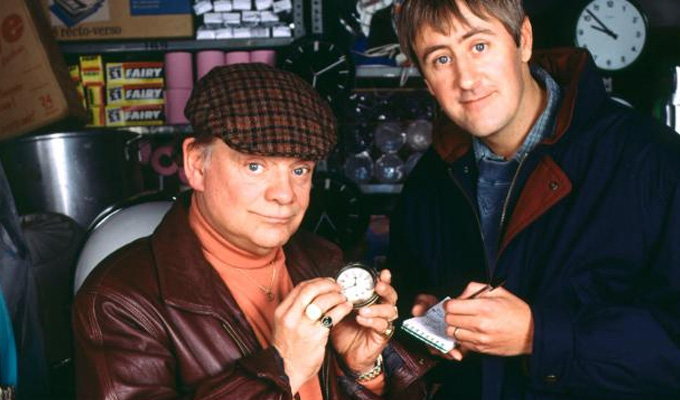 Lovely jubbly! Only Fools memorabilia fetches thousands
The prop cheque for £6.2million used in Only Fools and Horses has fetched £9,100 at auction.
The amount is more than three times the estimate, while the buyer will also pay an extra £1,800 in commission.
Made out to Mr D Trotter and Mr R Trotter, the fake document featured in the 1996 Christmas special of Only Fools and Horses.
In the episode, Time On Our Hands, the brothers discover they've had a watch in their lock-up garage for the past 15 years, which they then auction at Sotheby's for the shock seven-figure sum.
It was one of several props from the comedy that went under the hammer at East Bristol Auctions today – and the one which fetched the most money.
David Jason's personal script from Heroes and Villains – where Del Boy and Rodney foil a mugging while dressed as Batman and Robin – sold for £4,100.
Del Boy's gold bracelet fetched £2,200, a medal for 'road-sweeping services' given to Trigger, played by Roger Lloyd Pack, went for £4,900 and a war medal as worn by Buster Merryfield as Uncle Albert fetched £2,800.
Altogether, the Only Fools merchandise raised £32,000.
At the same auction, the end credits from an episode of Monty Python's Flying Circus went for a hammer price of £4,600.
The 15ft scroll came from the 1972 episode Blood, Devastation, Death, War and Horror. And because that show featured Eric Idle's sketch The Man Who Speaks In Anagrams, all the credits were anagrams, too.
It was given to the anonymous vendor by one of the show's cameramen after they got chatting at the 1971 recording.
Published: 7 Jun 2019
What do you think?