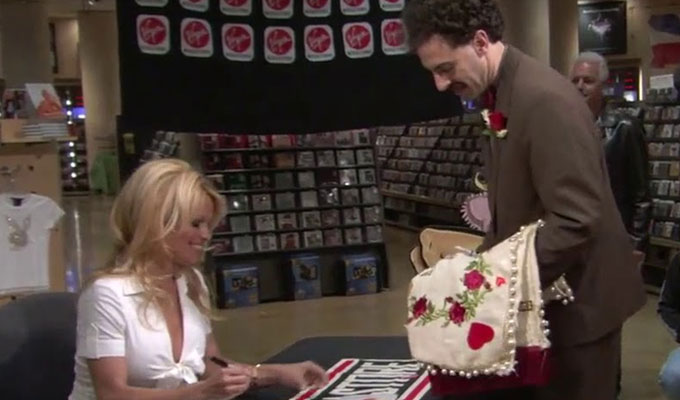 Sacha Baron Cohen: Borat cost Pamela Anderson her marriage
Sacha Baron Cohen has revealed that his Borat alter-ego was responsible for the break-up of Pamela Anderson's marriage to Kid Rock.
According to the comedian, the rapper was infuriated by his wife's role in the 2006 movie, which ended with the Kazakhstani TV presenter kidnapping her.
Appearing on a forthcoming episode of The Last Laugh podcast, Baron Cohen further revealed that Anderson was in on the joke – and that she got injured during filming.
'She was the only person in on that movie,' the comedian said. 'Otherwise it would have been kidnapping.'
The film revolves around Borat pursuing Anderson, the object of his affections, around America until finally grabbing her during a book signing.
'We did that scene twice, Baron Cohen told host Matt Wilstein: 'The first time I grabbed her over my shoulder and no one did anything – [and I thought] what kind of fans are these?
'So we did it again and they started running after me. I tunred and I didn't realise but she actually clipped her jaw. She's actually amazingly brave
'She lost a tiny bit of bone from her jaw – and secondly, she lost a husband.
It had previously been rumoured that Borat was a trigger for the marriage break-up. During a screening of the film just before it was released Kid Rock was reported to have called Anderson 'a whore' and 'a slut', saying she had humiliated herself."
'Later on, Kid Rock saw the movie, and I texted Pamela Anderson and asked, "How did it go? What did he think?"' Baron Cohen told the podcast.
'She texted back, "He's getting divorced".'
When the comedian asked her why, she replied: 'The movie.'
'I thought it was a joke, but then a few weeks later they got divorced, and they put as a reason for divorce: Borat. So it had some casualties.'
Baron Cohen's episode of the Last Laugh podcast, produced by the Daily Beast, will be released next week. But here is the preview clip in which he talks about Anderson.
;
And here's the scene:
Published: 31 May 2019
What do you think?