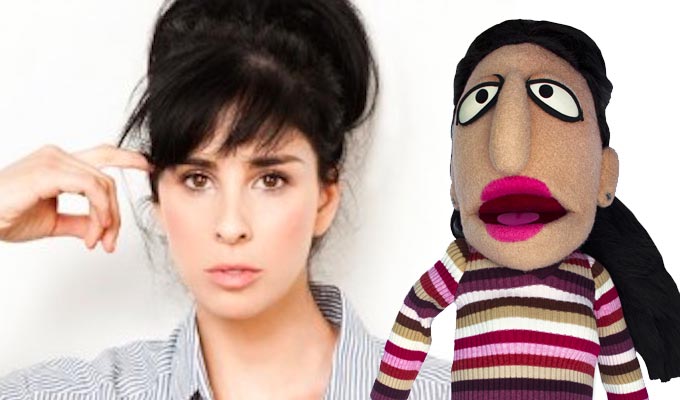 Slip your hand inside Sarah Silverman
Sarah Silverman's puppet alter ego from Crank Yankers is going under the hammer.
In the series, the comic voiced Hadassah Guberman, a Jewish college student who conducted market research in her spare time – asking intrusive questions and making passive-aggressive insults.
The 25-inch tall tall puppet wears a striped turtleneck, hot pink lipstick and has 'very realistic' long hair pulled back .
Silverman donated the puppet to raise money for the Upright Citizen's Brigade comedy troupe two years ago – and also gave a vibrator shaped like Barak Obama to the same fundraiser.
Her puppet comes with a handwritten note saying: 'Hadassah Guberman AKA Sarah Silverman (me) Puppet from CRANK YANKERS'. It was recently put up on eBay for $4,5000.
Adam Carolla, Jimmy Kimmel and Daniel Kellison co-produced Crank Yankers, which aired on Comedy Central from 2002 to 2005 and on MTV2 in 2007.
Featuring crank calls re-enacted by puppets, the show is coming back for 20 more episodes on Comedy Central.
Bid for Silverman's puppet here – but the minimum bid is $1,000. It will be sold next Thursday.
Published: 20 Mar 2019
What do you think?