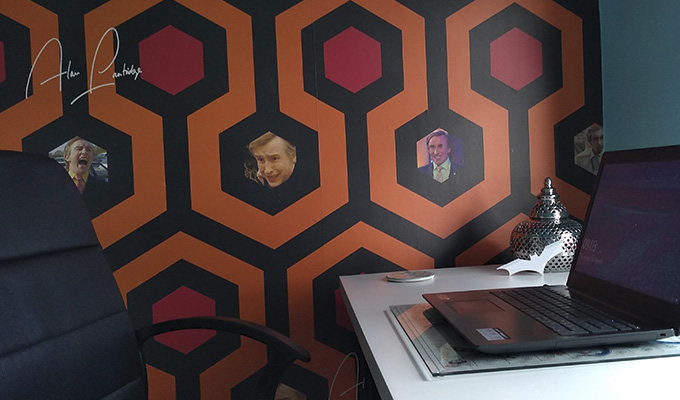 The great wall of Alan...
It's the sort of interior decoration Jed Maxwell, Alan Partridge's most dedicated fan, would love.
And now you too can have Alan's face gazing at you from every direction – thanks to new special edition wallpaper.
Entitled The Five Faces of Alan, the new wallpaper captures some of Steve Coogan's priceless expression – with fans able to choose their favourite or ask for a combination of all five.
The five options are: Dan, Spiiike, Can I get some water please?, Zombie Alan and Moooo! in a hexagonal pattern.
And for extra creepiness the design has been inspired by the carpet pattern on the hotel floor in The Shining.
It's been created by Stuart Haynes of Birmingham-based Big Bear Comms, and Zeyad Ahmad of Nottingham's Midcity Signage.
Haynes, said: 'Alan has now been on the airwaves for just under 30 years, throughout which he has remained the consummate broadcaster (unlike Dimbleby).
'From Moseley's black shirts through to Nigel Farage, Katie Hopkins and Tommy Robinson, we've always had a healthy disregard of those who take themselves too seriously and Alan is a great example of that.'
Ahmad said they had already had one order of 50 rolls from Devon – enough to paper the upstairs of a three-bed semi-detached house.
The Alan Partridge wallpaper can be ordered from www.bigbearcomms.com/alan.
And here's some footage of their target customer.
Published: 17 Mar 2019
What do you think?