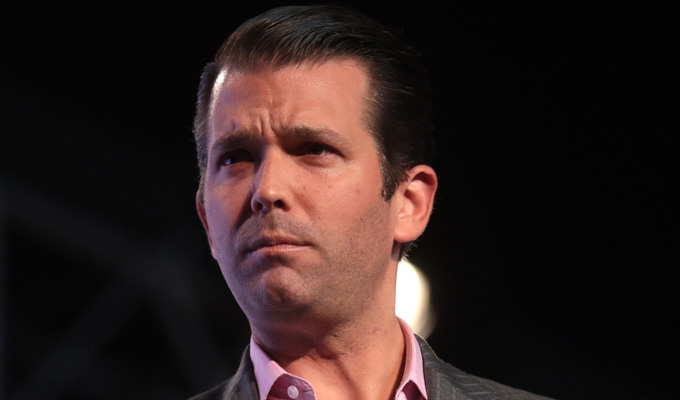 Why Donald Trump Jr's a moro&
Donald Trump Jr last night gave critics more ammunition to mock him – as if it were needed – by managing to misspell a three-letter abbreviation.
The President's son tried to take a swipe at the long-running satirical show Saturday Night Live, one of his father's lengthy list of nemeses, but somehow managed to contract it to S&L rather than SNL.
Presumably he reckoned the stood for 'and' as in rock 'n' roll, rhythm 'n' blues, Guns 'N' Roses… or he confused it with Savings and Loans, the financial institutions at the heart of a 1980s scandal.
The howler came as he responded to a tweet from a supporter depicting Democrat rivals as wanting to kill babies, outlaw private health care, confiscate guns, and heavily tax their opponents – parroting all the President's non-wall-based slogans.
'It's almost like a funny version of an S&L skit,' said the 41-year-old, who is executive vice-president of the Trump Organization.
Comedians let the slip go and drew no comment at all about it.
Well, not quite.
S&L is like a child saying Libary. https://t.co/ixOXfR3Eji

— Tony Posnanski (@tonyposnanski) January 31, 2019
My favorite actor on there is Adam S&ler. https://t.co/ixOXfR3Eji

— Tony Posnanski (@tonyposnanski) January 31, 2019
I think you mean Ei&nstei&.

— Jesse James Richard (@jessejamesrich) January 31, 2019
god, if I had a hamberder for every time someone called it s&l

— Chris Kelly (@imchriskelly) January 31, 2019
Is S&L a local electric company?

— Mike Drucker (@MikeDrucker) January 31, 2019
You are going to PRISO&

— Jesus Christ (@SonOfGodAndMan) January 31, 2019
Haven't you been sent to the Pen & Tentiary yet?

— Jodi Simmons (@Jodi5ft15) February 1, 2019
Or maybe Trump Jr was using S&L in the context of dating sites: Single & Looking.
Published: 1 Feb 2019
Recent Punching Up
What do you think?