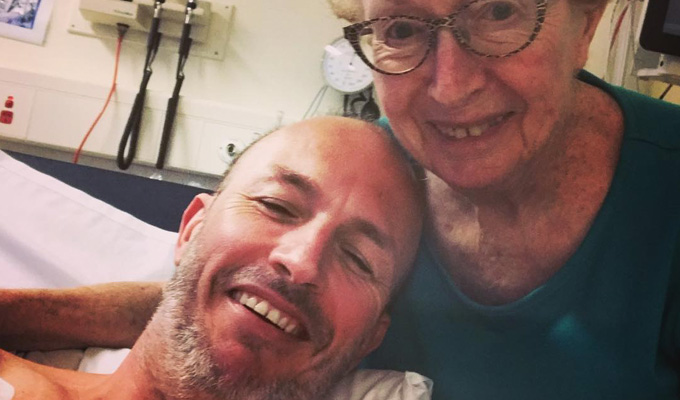 Comic almost killed by a fish
Brendon Burns is trying to track down a good Samaritan who saved his life after he was stung by a stonefish in his native Perth.
The creature is one of the most dangerous of all fish, with a venom in its spines that can be fatal to humans if untreated – yet its camouflage means they are hard to spot on the seabed.
British-based Burns – who had, ironically, travelled back to Australia to look after his mum as she undergoes chemotherapy – came into contact with the fish after diving into a wave.
He at first thought he had hit a beer bottle, but soon the debilitating pain made it clear it was something more serious.
He said he couldn't stand because of the agony and was 'going in and out of foetal position and screaming at the top of my lungs'.
Writing on his public Facebook page, Burns said: 'Guard on duty actually told me not to bother checking in to A an E as we both presumed it a stingray or a rock cod. If I'd listened I could be dead from anaphylactic shock right now.'
He thanked a 'quick-thinking cool customer called Helen [for] springing into action, driving my car back and talking me through what to do to the wound'. [Which is to keep flushing it with water]
The comic posted the above picture of himself in hospital with his mother on social media as he tries to track Helen down.
He told her via The West Australian newspaper: 'You saved my life, thanks.'
'She's got free tickets for life,' he added.
The comic's story was also covered by 9News and 7News on local TV.
Stonefish are not usually found as far south as Perth. According to the Queensland museum, their usual habitat ends at Shark Bay, some 800km north of the city.
Published: 31 Jan 2019
Recent Punching Up
What do you think?