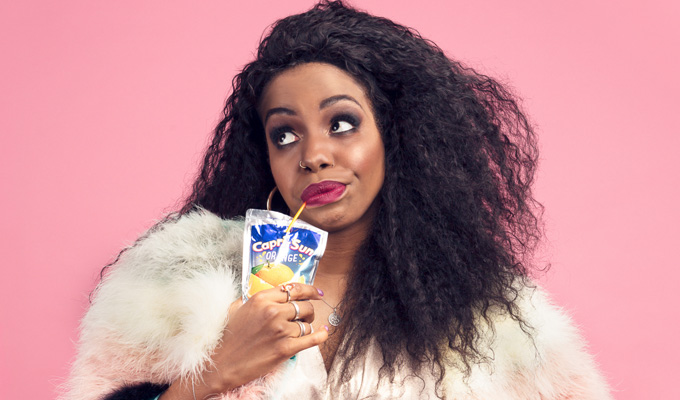 Make-up by Cocoa Chanel!
It shouldn't have been too much of a challenge to prepare London Hughes for the TV cameras.
But the comedian has revealed how a BBC make-up artist took a rather unconventional approach to her work - by dabbing hot chocolate on her face because she didn't have the right products for black skin.
Hughes, a former children's TV presenter, said the incident showed how broadcasters are falling behind on diversity.
She told the BBC's Fortunately podcast: 'I used to present on CBBC and one of the make-up artists there put hot chocolate on my face because she didn't have any make-up for black people. That was in 2012.
'She didn't realise I was black [before I arrived] so she panicked. She had Waitrose organic hot chocolate. In her defence, she didn't put Tesco's own brand on there, it was Waitrose organic at least.'
Hughes, 29, also told of an incident on a writers' course for Radio 4 when a mentor told her she should write about how her parents 'came here on the boat from Africa' - even though her dad was born in Crawley and her mum, who was born in Jamaica, 'definitely came here by plane'.
Hughes told podcast presenter Jane Garvey and Fi Glover that the woman concerned 'wasn't being horrible, that's just what she thought'.
The BBC said they couldn't verify the comic's account.
Published: 4 Nov 2018
What do you think?