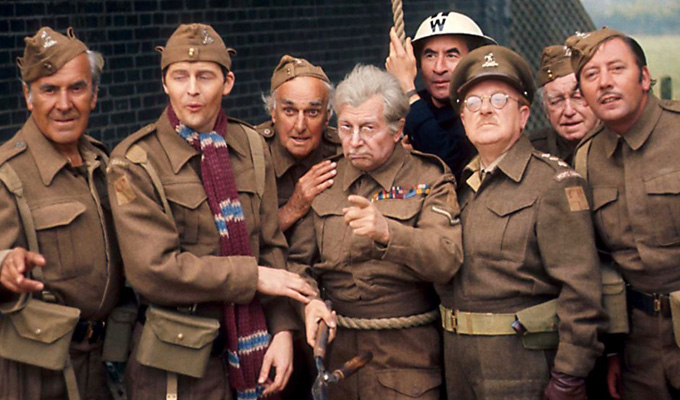 How the Queen's love of Dad's Army almost scuppered a Cold War spy mission
A cloak-and-dagger plan to extract a British double agent from the clutches of the KGB in Moscow was almost scuppered – by the Queen's love of Dad's Army.
The unlikely-sounding story is revealed in a new book about the Cold War from journalist Ben MacIntyre, which also contained the stories about Michael Foot's links to the Kremlin that were reported last week.
In an extract published in the Sunday Times today, MacIntyre tells how a high-ranking aide was delayed from getting the green light for the top-secret operation from Prime Minister Margaret Thatcher, because Royal flunkies at Balmoral – where she was staying – were too preoccupied with the whereabouts of a video recorder the Queen wanted to borrow from her mother to watch the classic sitcom.
Charles Powell, Thatcher's closest adviser, was dispatched from London to Scotland in 1985 to get permission to 'exfiltrate' British agent Oleg Gordievsky from foreign soil. The mission was so secret, he could not discuss it over the phone.
Upon arrival at Balmoral, Powell encountered an equerry at the gatehouse who was on the phone, trying to locate the Queen Mother's video recorder.
'Powell tried to interrupt the conversation but was silenced with a cold look,' writes Macintyre. 'Cold looks are taught at equerry school.'
It took 20 minutes for the video problem to be solved, but then Powell was delayed further by the Queen's private secretary wanting to know why he had turned up unannounced.
'I can't tell you, it's secret,' Powell replied.
But, in fact, the delays didn't matter, because what Thatcher never knew was that the escape plan had already been activated on the assumption she would say yes.
So one day Gordievsky went for his usual jog in Moscow, but managed to evade his KGB tails and boarded a train to the Finnish border, where he was smuggled out of the country in the boot of a Ford saloon owned by the British embassy. There is still a Russian death sentence hanging over the head of the double agent, now 79. Ten years ago he was rushed to hospital from his Surrey home with suspected thallium poisoning.
The Queen's love of Dad's Army was revealed in the book At Home With The Queen two years ago, when author Brian Hoey suggested it was 'because she remembers the Home Guard platoon based at Windsor Castle during the war'.
Published: 16 Sep 2018
Recent Punching Up
What do you think?