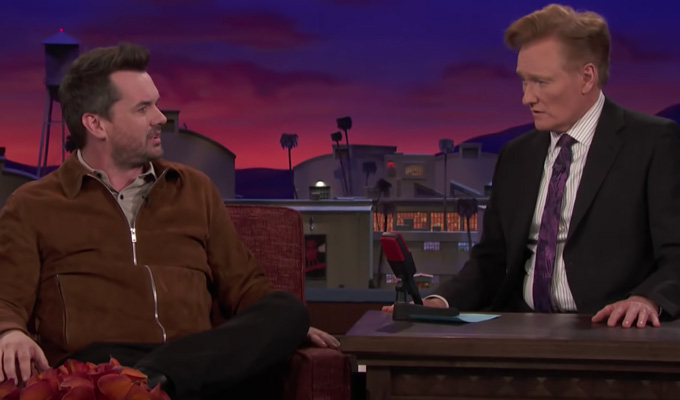 'My testicle swelled to the size of a grapefruit'
Jim Jefferies has revealed the reason he had to cancel his appearance on Conan O'Brien's late-night talk show a couple of weeks back – and it's not pretty.
Finally making the TBS show last night, the comic revealed in typically frank detail the medical issue that kept him away before.
'The night before I was meant to be on your show. I was masturbating,' he said. 'And when I ejaculated blood came out.
'I thought, "Hmmm, that's not good", right? Blood shot out like I was Jackson Pollock painting something.
'I remember being concerned that I had to get up early to do my show. Stressful sleep, right? But then when you wake up in the morning you think: "I have to check if this is going to happen again."
'So I had another wank. Hat's a hard one to get aroused for, knowing that you might have blood coming out of the end of your dick. So I did it again. Blood again, Conan.'
But that was not the end of the comedian's medical problems, as he continued:
'Over the course of the day I was supposed to do your show, one of my testicles swelled up to the size of a grapefruit and I thought, "Best that I don't do Conan's show." Because I couldn't walk.'
'Have you ever used one of those spacehoppers, those blow-up balloons where you hold the two ears when you're a kid? That's how I looked, but I only had one ear to hold on to.'
Jefferies underwent several medical examinations, saying  'over the past two weeks I've had had four doctors' fingers in my ass - not at once.'
And they discovered it was a prostate infection – not cancer as feared.
Here he is talking about this, and other medical problems, on the show.
Published: 8 May 2018
Recent Punching Up
What do you think?