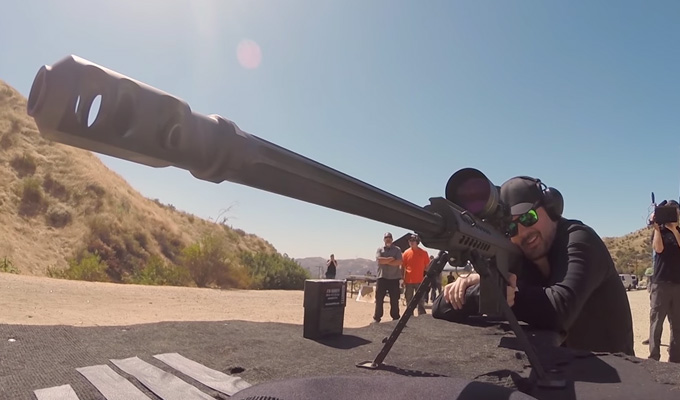 Jim Jefferies just owned the Navy Seal who killed Bin Laden
He made his name in the States with a passionate stand-up routine about gun control.
But Jim Jefferies has conceded that 'guns are fun!' after spending a day on the shooting range with the Navy Seal who shot Osama Bin Laden.
And he even proved a better shot than highly-trained Robert O'Neill... at least in one exercise.
The pair fired off some high-powered weaponry for a segment in the comedian's Comedy Central show, with Jefferies joking that it couldn't be too difficult, as shooting was 'like a video game that's got one button'.
In one scene O'Neill shot a target showing a zombie Bin Laden, while Jefferies' was emblazoned with the second amendment, which protects the right to bear arms.
But when the comedian challenged the Seal Team Six hero to shoot a watermelon with a .50-calibre sniper rifle, Jefferies hit his target, but O'Neill missed.
The comedian teased the military man, saying: 'Hey! Maybe Bin Laden would have been OK if he was dressed as a watermelon.'
But there was a serious point to the film, about how easy it is to buy sub-machine-guns and assault rifles in the States
Jefferies mocked the way the guns they used were marketed, saying: 'This is the HMK-416. It's an assault rifle similar to the AR-15,. The manufacturer calls it user-friendly. In stores for... hunting. Yeah, let's say it's for "hunting" this time.'
Published: 22 Nov 2017
What do you think?