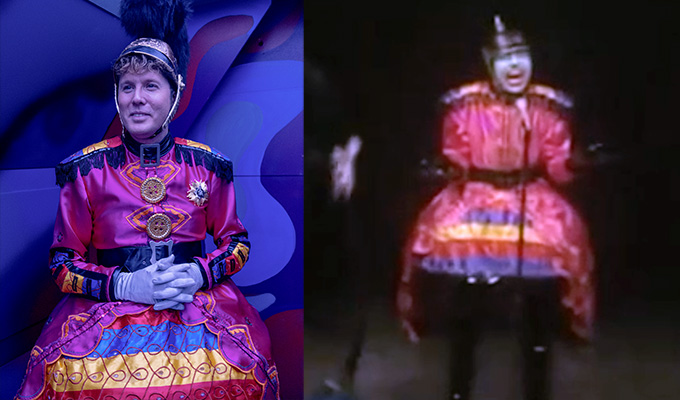 Oh no! We're wearing the same outfit
Haven't we seen that dress before?
The new episode of Red Dwarf, available now on UKTV Play before its broadcast on Dave next week, features an outlandish costume that fans of cult comedy hits might recognise.
In Timewave, the travellers encounter a spaceship where criticism is illegal, captained by Ziggy, played by Jamie Chapman.
And he's wearing an bizarre military-inspired pink dress with a rainbow pattern on the front of its bustle, epaulets to match, and a helmet based on a Roman soldier's galea.
Viewers with long memories might remember it was the same outfit worn by the avant-garde performance artist Vulva – as played by David Walliams – in the third episode of Spaced, which aired some 18 years ago this week.
The link was spotted by the alternative comedy geeks at The Velvet Onion website.
They say: 'To the best of our knowledge, there's no crossover in wardrobe department personnel across the two shows, and we haven't seen the dress appear in anything else before or since.'
Curiouser and curiouser…
Published: 20 Oct 2017
Recent Punching Up
What do you think?