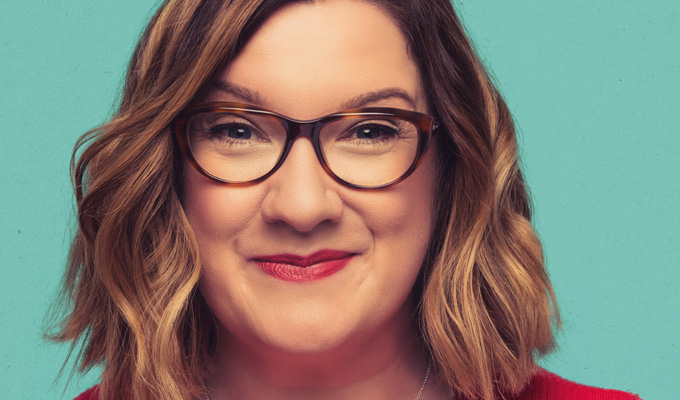 It's Sarah Milli-con!
Fake news! Sarah Millican once hoodwinked the press into believing a stage hypnotist had botched a trick, leaving her friend unable to go about her day-to-day life without bursting into Madonna songs.
She started the hoax when she was 21 and doing a TV production HND course, which challenged students to get a false story into the media – but only now reveals the story in her new book, How To Be Champion.
The fib she concocted with her pal Cathy started in the local Shields Gazette but was soon picked up by all the national tabloids and even a few of the broadsheets.
The Daily Record in Scotland reported at the time: 'Spellbound Cathy can't stop acting like Madonna after being hypnotised at a hen night. The 20-year-old burst into song in a BANK QUEUE as customers and staff watched in disbelief. And Cathy says she has started copying the Material Girl's raunchy routines at home and in the street. She fears she'll be forced to track down the hypnotist, and get him to set her free...'
A journalist from the Daily Mirror doorstepped the Millican family for five hours and This Morning offered to bring the pair onto the programme to undo the damage done by the fictional hypnotists, who they had called Rupert Danns as it was a close anagram of 'underpants'
Scared at how the story was snowballing, the pair came clean – prompting the Mirror man to vow to 'turn over' the youngsters… as if there was any dirt to dig.
Once they came clean about their deception, they were invited on to The Big Breakfast with Zoe Ball – the first time Millican ever appeared on TV.
'And with the nerves of a 21-year-old bairn on live telly for the first time, I sneaked out a fart on the Big Breakfast couch,' Millican writes. 'My first, and some would say best, claim to fame.'
How To Be Champion by Sarah Millican is released by Orion Books tomorrow. Buy.
Published: 4 Oct 2017
Recent Punching Up
What do you think?