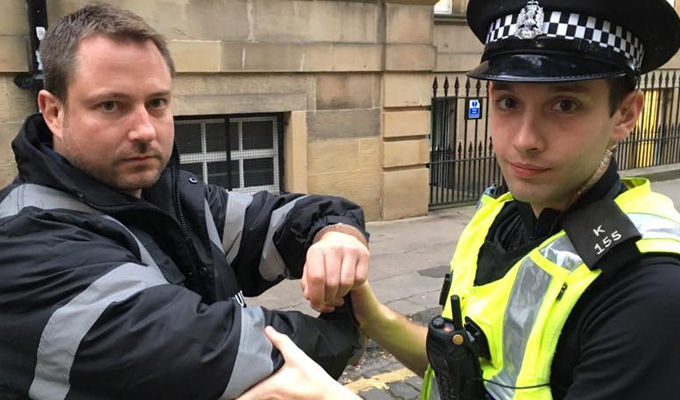 False sense of security
Stand-up
Damian Kingsley
was given a police caution yesterday – for impersonating a security officer.
The comedian had taken to wearing a security jacket as a publicity stunt for his Edinburgh Fringe show. He was approached by officers while outside the gate of Underbelly in George Square, asking people to open their bags. When they did, he put flyers in.
'I thought I was on reasonably safe ground, but it turns out you can't do that,' Kingsley said.
He was cautioned for being in breach of section 3 of the Private Security Industry Act 2001, which makes it an offence to engage in conduct for which a licence is required when you don't have a licence. Had the case gone to magistrates' court, he could have faced up to six months' imprisonment and a fine of up to £5,000.
Kingsley said: 'The police were lovely about it and did see the funny side – which I didn't at the time – but ultimately still had to enforce the law.
"It's time to hang up the security jacket now. It's gone to far. It was funny at first and it's nice to have been shortlisted for the Malcolm Hardee Cunning Stunt Award, but it's gone a bit Donnie Brasco, with the staff at Edinburgh's Money Barrel believing I work there and me doing actual shifts.
'I had to chuck someone out for rolling a joint in the toilet last week and almost got punched in the face in the process. There were some great moments though. I think the highlight was talking to Daniel Kitson in character and telling him he was "proper funny" and could probably do a set himself if he had a bit more confidence.'
Kingsley's show, Can't Dance, Won't Dance is on at Southside Social at 8.45pm.
Published: 23 Aug 2017
What do you think?