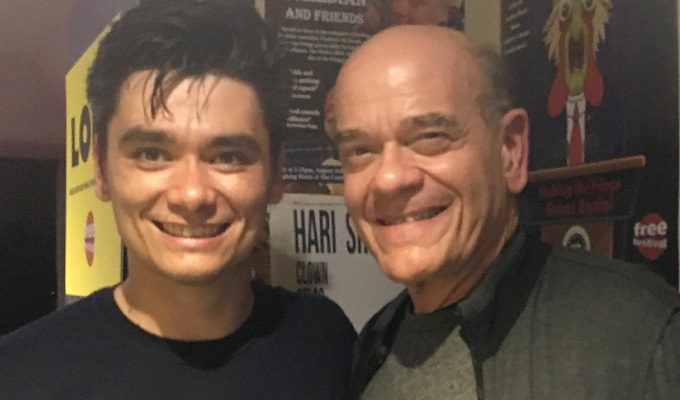 When a Star Trek Doctor's in the house
Half-Scottish, half-Filipino comedian Rik Carranza speaks about his fanboy love of Star Trek in his Edinburgh show.
So he was gobsmacked when one of the stars of the Voyager series turned up to his intimate room at The Counting House earlier this week to watch the show,
What's more, Robert Picardo, who played the EMH (Emergency Medical Hologram,or The Doctor) turned the tables an insisted on getting a photo with the comic.
Carranza said: 'Meeting Robert Picardo was one of the greatest and most surreal moments of my Fringe experience.
'Watching Star Trek from a young age, the EMH was one of my favourite characters. I always looked forward to episodes that centered on him.
'He was a character who was an outsider and seeing him try to fit into the crew and to try and develop himself was something I really identified with. 
'When he walked into my show where I talk about how much I love Star Trek I was amazed and terrified at the same time. To see and hear him laughing all the way through made me feel great about the show.
'But the highlight was afterwards where he insisted on staying, talking to me to tell me that he loved the show, helped get people to put money in my bucket, and on top of that, insisted on getting a photo with me! It was just a fantastic experience I will never forget.'
Picardo is in town to appear in the the new play A Joke, which also stars Sylvester McCoy, the seventh Doctor Who.
Carranza's show, I'm a Fan, which is on at 9pm nightly, discusses Star Trek as well as dealing with issues of bullying and mental health.
Published: 18 Aug 2017
What do you think?