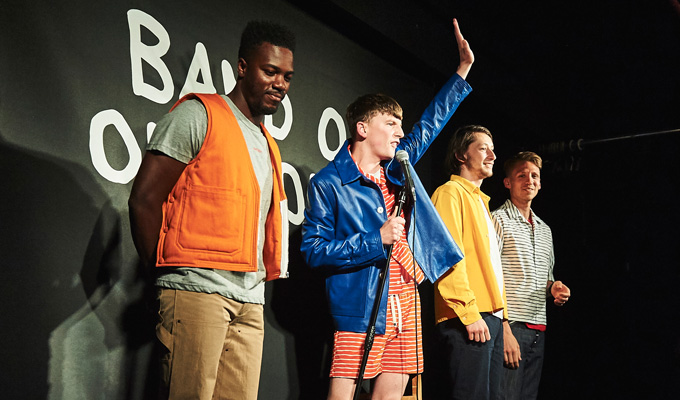 Comics turn fashion models
David Walliams's love life aside, the worlds of comedians and fashion models rarely meet. Good looks might prevent a stand-up convincing a crowd they're just a regular, relatable person.
Still, that didn't stop menswear label Band of Outsiders recruiting a quartet of young comedians to launch its spring/summer 2018 collection.
Joe Sutherland, Elliot Steel, Alistair Williams and Mo Gilligan, aka Mo The Comedian, performed a gig at London's Top Secret Comedy Club while sporting the brand's lines.
Among Sunday night's highlights were genuine 'former model-turned-aspiring model' Sutherland quipping that he left fashion because he grew too old for the job, '35 – in seven years'.
But never mind the comedy, the night was really about outerwear 'with a workwear vibe, which nevertheless stays light and approachable via handsome cotton-linen blends and maritime prints'.
Band of Outsiders previously used Aziz Ansari, Sarah Silverman and Donald Glover in campaigns before the label relocated to London from Los Angeles last year.
And brand director Daniel Hettmann maintains that 'comedy is very close to this brand's DNA'.
Here's an album of images from the night, taken by photographer Roy J Baron:
Published: 13 Jun 2017
Recent Punching Up
What do you think?