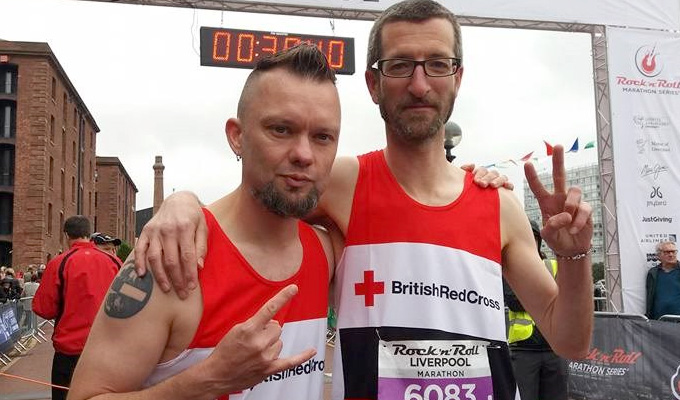 Best feet forward
Stand-up Sully O'Sullivan is claiming a course record for the fastest to ever run the Liverpool Marathon as a three-legged race.
However, it was an easy title to take, since he and fellow runner Max Newton are also the ONLY people to every run shackled together.
In the end they ran the 26 miles in 5hrs 42 minutes.
He confessed: 'We got passed by a pensioner, a varying array of super heroes, a bloke dressed as Scooby-Doo carrying a donation bucket, and even a guy who was doing the entire marathon as a walking race – but we did it.'
The comic also said that they had started well but his 'reconstructed knee started responding badly to the hilly course around the 15mile mark.'
As we reported last month, O'Sullivan had to take on the challenge after making a rash promise while hosting a charity fundraiser.
He was conducting an auction at the annual British Red Cross Giggle Aid gig in Sheffield, which included lot offering entry into he prestigious Paris Marathon.
But with the South Yorkshire audience light on long-distance runners, bids were sluggish… until someone offered £100 if Newton, who works for the charity, ran the marathon.
That was topped by a £150 bid if O'Sullivan did it, then £250 being if the two of them ran it as a three-legged race. And the venue was later switched to Liverpool to avoid a scheduling clash.
The pair have raised just over £3,000 from donations pledged here.
Published: 29 May 2017
What do you think?