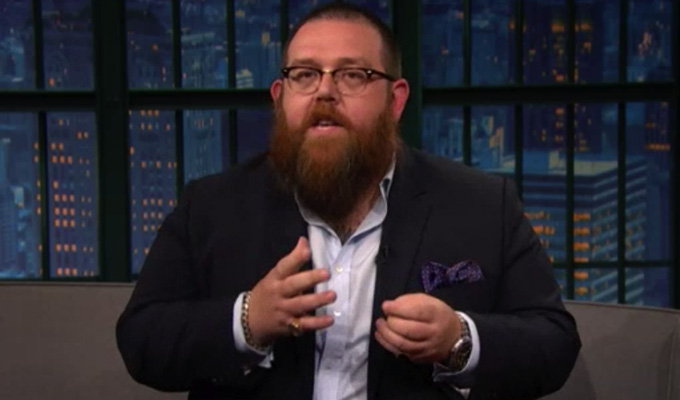 How Nick Frost broke his thumb wresting with Simon Pegg
Nick Frost has revealed that he once broke his thumb grappling with Simon Pegg when the pair were flatmates.
Despite having guests present, they drunkenly broke off from the group, removed their shirts and started manhandling one another.
'And it got to a point where I literally power-bombed him through my bed, like a proper powerbomb' he told Seth Meyers on his Late Night Show on NBC. 'So two things happened. One, my bed exploded. And two, as I stood up, my thumb was hanging off, down, hanging off loose.'
Unfortunately, embarrassment was to follow injury.
'All the guests we had came running in to see what had gone on' he recalled. 'And I said, "no, no leave [the bed], leave it!"
'And as they lifted it up, they revealed two Ikea bags full of porn which I'd been trying to hide. But I think what was worse was there was some magazines which weren't in the bag, they were like the porn du jour, they were just loose.'
Even then, his suffering wasn't finished.
'So I broke my thumb and did that awful man thing where I gaffer-taped it into position and went to bed … then I woke up at four in the morning with like … meat, pushing out of the little spaces in the gaffer tape.'
Frost revealed the story as he spoke about filming Stephen Merchant's Wrestling movie Fighting With My Family.
Published: 26 Apr 2017
Recent Punching Up
What do you think?