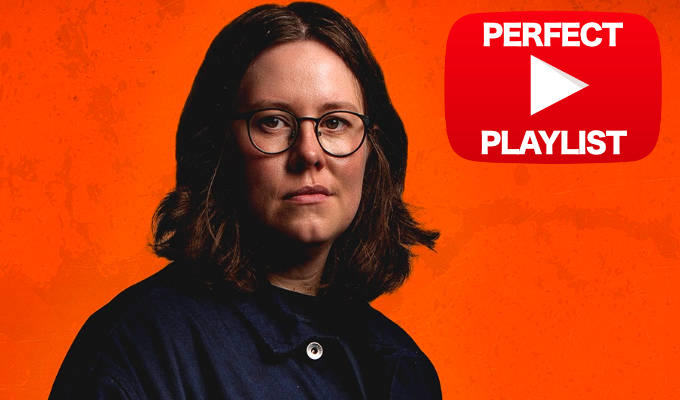 Simply by existing, Lou Sanders makes me laugh
Edinburgh Fringe comedian Chloe Petts shares her Perfect Playlist...
Sean McLoughlin: Hail Mary
Quite simply, this is the best stand-up hour I've ever seen and one that I've returned to for inspiration repeatedly since I first watched it at the Edinburgh Fringe in 2018. Sean perfectly blends the cerebral with the supremely stupid, making such spot on yet off-kilter observations.
He engineers rolling laughs that are often supplemented by his response to things going on live in the room, often resulting in the funniest breakdown you will ever see.
The show is perfectly structured, almost like a long epic poem, that crescendos into a perfect, satisfying and, for me, moving ending. There was one line in the final routine that still never ceases to make me gasp involuntarily.
The Vicar of Dibley
I've heard some people poo-poo The Vicar of Dibley in recent years but this will always be a firm favourite of mine and I do think it's a work of genius.
Dawn French gives an astounding performance as the kind and uniquely intelligent fish-out-of-water Geraldine Grainger, who patiently endures her oddball parishioners, who, despite being near-caricatures of English village idiots, always feel real and never contrived.
This is a show that I will always watch if it's on and I'll never lose the joy of seeing Geraldine jump in that big puddle for the second time or Alice walk down the aisle trailed by Daleks.
It's everything I want my comedy to be - warm-hearted yet often filthy.
The Good Place
The Good Place is a modern example of sitcom that I've loved. Like The Vicar of Dibley it's an ensemble piece with a likeable fish-out-of-water lead, but that's where most comparisons will end.
What I like about this show, created by Michael Schur, is that it's created a comedy world in which literally anything could happen. But such a lack of constraint can be a constraint in itself - when you can choose anything, there's more room for error in choosing the right thing. But they always hit the right comic and emotional notes.
I think I found this sitcom at the right time for me personally. I was having lots of anxieties around humanity and my own mortality (just the small stuff) and this packages ethics in such a gentle and kind way that its existentially settled me and allowed me to see the good in people again.
Kristen Bell, Ted Danson and D'Arcy Carden give particularly stand-out performances. Watch out for when that end of Season 1 twist hits.
Eddie Pepitone: For The Masses
Sean McLoughlin - who I begrudgingly now call friend coz we both lived in Streatham for ages and no one else wanted to travel there to visit us - recommended this special to me and I'm so glad he did because I cracked up from start to finish.
Pepitone strides onstage with a stunningly clear persona shouting 'I'm on Molly!' I can't describe to you why that's so funny but it just is.
He does this thing where he has two personas running side-by-side, one a mad, shouting, ranting man and one that's more softly spoken and comments on the action of the mad, shouting, ranting man.
I love watching those old comedians that have been there, seen it, done it all who are just completely unrelenting and killer in their delivery, hoping that one day that'll be me.
I May Destroy You
It's hard-hitting, it's uncompromising, it does something NEW, which feels nigh-on impossible in this Age of Everything.
Further hot-take: Michaela Coel is extraordinarily talented. She writes, acts AND directs - leave something for the rest of us! She somehow manages to blend the serious and sardonic, but never makes her audience feel alienated. We're there with her every step of the way.
It is so important that someone of our generation has made such a substantial piece of art that interrogates what it's like to come of age in this tiny bit of history, that is marred by toxicity and a messed-up relationship with consent.
Lou Sanders: Shame Pig
Lou Sanders may well be my favourite comedian ever, because simply by existing she makes me laugh. But it felt like this show was the perfect distillation of her innate funniness and the hard work, craft and skill that she's honed over the past years.
She deals with big issues with a deftness of touch and also has an amazing turn-of-phrase where she'll have a great joke but then make me laugh even more by adding a little flourish onto the end.
Lou is also the co-host of my favourite all-time podcast Why is Your Bottom So Dirty (alongside charming and hilarious Luke McQueen). It's one of those podcasts where someone stopped me on the tube to ask if I was okay coz I was laughing so much publicly.
• Chloe Petts' debut show, Transience, is at the Pleasance Courtyard Upstairs at 6pm. More info at chloepetts.org
Published: 3 Aug 2022
What do you think?