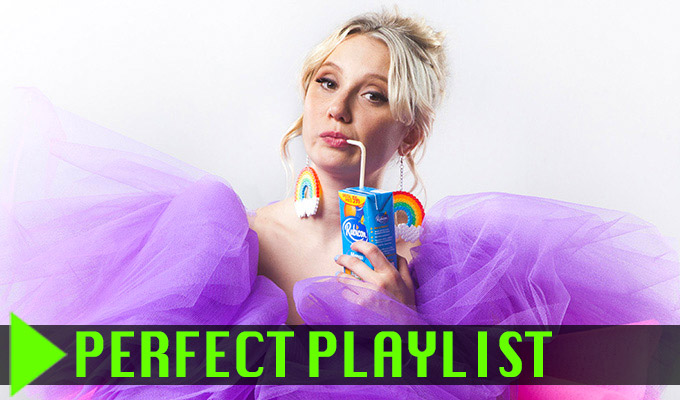 'Some of the greatest few minutes of television ever made'
Hi, just so you know I take this sort of thing way too seriously, and I've sucked all the fun out of it for myself. Enjoy!
Lonely Island
Lonely Island write perfect musical comedy songs. You can tell they're fans of the genre they're emulating and this results in seriously impressive musical production and very slick music videos.
There's an audacity in doing all that skilled work and then making it a dumb song about, for example, putting your dick in a box that will never stop being funny to me.
My favourite video of theirs is Captain Jack Sparrow. It's such a simple but funny premise and Michael Bolton deserved an Emmy.
Bo Burnham
Every time I write a show I rewatch his specials, they're so well structured.
Can't Handle This was the finale to his show Make Happy and I love it so much. It starts off as being a Kanye inspired piece about the things that are bothering him, but it ends up in a really unexpected place, escalating from not being able to fit your hand into a Pringle can to the relationship between comedy and mental health.
It makes me cry, but then again, I am a bit of a wanker.
The American Office
It's the perfect television show. It evolved so far beyond the UK version, the ensemble characters are so defined and they get funnier and funnier. The joke count is so high and the acting and writing is like a masterclass.
Whenever I try to watch something else I just get disappointed that it's not The Office, so I just tend to watch all nine series on a loop. I think the cold open fire drill might be some of the greatest few minutes of television ever made.
Naomi Ekperigin
Naomi is a comedian and writer from America who I was introduced to via the 2 Dope Queens podcast. I think it's rare to laugh out loud at just audio alone, but that's what happened when I first listened. She does relatable content about being in a woman in your 30s and she's just got funny bones.
I've since stalked her several times at gigs in LA and while I haven't actually yet said hello I always laugh a bit too hard and stand a bit too near, so I wouldn't be surprised if I wasn't let in next time.
The above clip is from her performance on Comedy Central's, The New Negroes, which is Open Mike Eagle's new show, who is my favourite comedy rapper, he's like an hilarious poet.
Can you tell I'm trying really hard to shoehorn more in than just the paltry six choices Chortle have given me?
This is a song he did with Lizzo about consent… two of my favourite musicians and one of my favourite concepts all mixed into one short video.
The Eric Andre Show
When I first saw this I nearly lost my mind. It reminds me of Vic and Bob's Shooting Stars which was my favourite show as a kid.
I can't really describe it. Just watch it. It's batshit. Hannibal Buress's hilarious zen-like chill mixed with the mad physical comedy of Eric Andre will leave you feeling really unsettled but in the best possible way.
Key & Peele - East/West College Bowl
L'Carpetron Dookmarriot… need I say more?
I've just realised how many of these are male and I'm absolutely disgusted with myself.
Please can I also say that I love everything Wanda Sykes, Mel & Sue, Katherine Ryan, Victoria Wood, Kate McKinnon and Tiffany Haddish have ever done and I couldn't pick from all their endless brilliance? And in terms of the UK circuit at the moment you can't miss Flo & Joan, Suzi Ruffell, Rosie Jones, Olga Koch, Sophie Duker and Amy Hoggart who's a big star in America now but I miss her so I like to bring her up every now and then.
My parents who are in their late sixties wanted to see if they could still skip…
• Jenny Bede: The Musical is on at Just the Tonic @ The Mash House at 17.05 daily,/strong>
Published: 20 Aug 2019
What do you think?