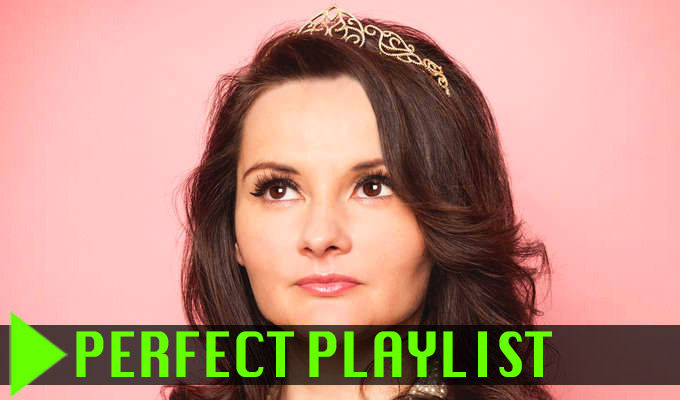 'A female character with depth, personality and jokes. Perfect.'
Micky Flanagan: Out Out
I absolutely love Micky Flanagan. He's so naturally funny it's incredible. He's great live, on panel shows and I loved his What Chance Change series. He just knows who he is and you can't help but be drawn into his personality.
He always looks like he's thoroughly enjoying himself on stage and it's so infectious. Out Out is one of my favourite routines of his. It never fails to make me laugh even though I know it off-by-heart now.
Seinfeld
Seinfeld is an absolute classic. So many funny episodes, so many great characters – even Jerry's parents are hilarious. It's well written and I never grow tired of it.
To pick one bit of it is so hard but Elaine dancing is brilliant. I remember the first time I saw this and almost choked to death laughing.
Elaine's a great character, a female with depth, personality and jokes. Perfect.
People Falling Downstairs
This video has had 1.1 million views and a million of them are me.
I used to work in a rare books library before I was a comedian and, aside from watching academics re-read Dante's Inferno, there wasn't much happening.
My mate and I used to put this on and try not to burst out laughing. We had the sound off, though. We were very professional.
Richard Felix
I'm a bit of a nerd about the supernatural and I watch loads of videos on YouTube about ghosts.
Richard Felix is a ghost hunter who has appeared on Most Haunted and makes his own documentaries about regional hauntings. They're interesting and he knows his poltergeist from his demon, but they're so unintentionally funny it's almost genius.
You'll just have to watch to see what I mean. I really like the chap and it's great he's doing his own thing, so I hope this doesn't come across as mean-spirited (sorry!) but these really make me weep with laughter.
I'm Alan Partridge
Two series of absolute gold. Solid writing, brilliant acting and so many quotable bits. I'm a huge fan of pretty much anything Armando Iannucci and Steve Coogan are involved in and every single episode is great. I still binge-watch it on a regular basis.
Alan piercing his foot on the spike is just brilliant:
The Young Ones
I believe The Young Ones is the reason I'm a stand-up comedian. I got obsessed with it when I was a kid. I was far too young to be watching it and kept repeating bits of it, so the videos were taken off me for a while. It's just so funny and grim. Love it.
• Rachel Fairburn: The People's Princess is on at Underbelly Bristo Square at 21:35 daily.
Published: 19 Aug 2019
What do you think?