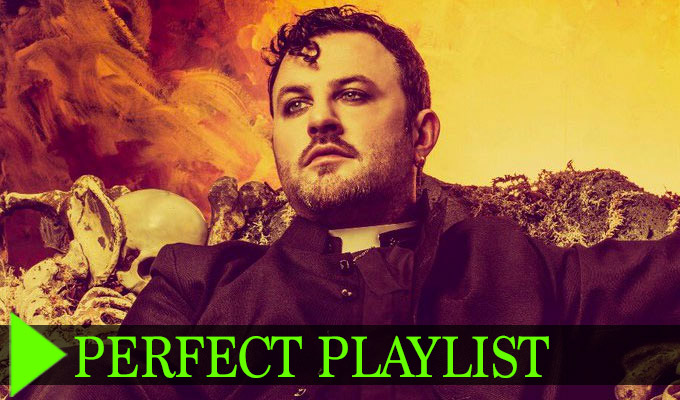 I find the 'man-child as an agent of chaos' thing so funny
Saturday Night Live: Renaldo and Alexi
I'm a huge fan of SNL, but I don't watch it religiously – I dip in and out as does the quality. It's not always brilliant, not all casts are equally good and sometimes they're having to find their feet all over again but it feels important that it exists: an institution that's a breeding ground for new talent and a place for the best comedians – performers and writers - to find their voices, find an audience and go on to do bigger things.
Two of the best of recent years or any generation are Bill Hader and Fred Armisen – so incredibly talented and funny and charming. This sketch isn't particularly good and didn't even make it onto the show – it's just a recording of the dress rehearsal where they can't keep their shit together – their laughter is so pure and you see how much fun it must be to work on.
This looks like what making comedy should feel like. I started finding the voice for my character by trying to replicate Fred Armisen in this sketch and I enjoyed saying the word Rodolfo so much it's what I called the character – so he's actually named after a red-rosed reindeer.
Step Brothers
I think this might be one of the funniest films ever made, I love Will Ferrell – the first time I saw him in a film, I was 17 watching Old School with friends and I didn't know something could be that funny.
Anchorman was watched in my uni halls every other week and quoted every other sentence. But I think the simple premise and perfect execution of Step Brothers makes it the best of his films, and the best iteration of the 'man-child as an agent of chaos' thing he does that I find so funny and try to bring to my shows - more obviously in my sketch group Beasts but I hope a bit of it is always there.
Also John C. Reilly is so good in this, getting an actor as talented as him to bring his considerable chops to such puerile bullshit is a masterstroke.
Daniel Kitson: Stories For The Wobbly-Hearted
My first time coming to Edinburgh was performing in a student production with my university – three short plays written by members of the cast. And it was fully diabolical – real trash. We never really had an audience but if we had they'd have been well within their rights to walk out.
But while there I got to see some incredible things that ignited a love for the Fringe that still burns to this day. One of them was Daniel Kitson's story show and it was stunning.
I could have chosen any number of his shows, 66a Church Road might be his best but you never forget your first time. Some comedy just makes you laugh, some makes you laugh and think, the best makes you laugh and feel and Stories for the Wobbly-Hearted was my first experience of comedy that was as beautiful as it was funny.
Jim Carrey
I think there's only a few performers on stage or screen who are more than a comedian, they're a force of nature – Robin Williams was one, Jim Carrey is another and probably more my generation.
Watching him as a child in films like Ace Ventura, The Mask and Liar Liar, as a teenager in films like Dumb And Dumber and The Truman Show and as an adult with Eternal Sunshine of the Spotless Mind and I Love You Philip Morris.
He's brilliant in everything, capable of anything, as comfortable in a children's film as a serious drama, impossibly funny and inventive and full of heart. It looks like you don't direct him, you just let him off the chain, roll cameras and try to keep up.
I watched that Jim and Andy documentary and found a lot of it pretty uncomfortable. He seems to have had his struggles and has been quiet for a few years – but I hope we see a renaissance at some point because I'd love to see what's next and we can't afford to lose another force of nature.
Booksmart
I thought I'd have something recent on the list, keep it relevant for the kids.
I love all films set in school, particularly American high schools, the nostalgia I have for my school days is very strong, but Hollywood's vision of high school is so appealing to me, having gone to an all-boys Catholic school in Ireland, that I've always loved them.
I was obsessed with Rushmore, Mean Girls, American Pie, The Breakfast Club while at school and when I saw Superbad years later it brought back lots of feelings.
Booksmart did that for me most recently. It's one of the best of the genre – the two leads Beanie Feldstein and Kaitlyn Dever are incredible, every supporting character is brilliant and gets their moment to shine, there's so many fantastically funny lines and it's a perfectly crafted film by Olivia Wilde and staggering that it's her first.
Adam Riches
Adam is the best at what he does and his shows have been some of my favourites throughout the years.
Our shows are very different but when the sketch group was winding down and I was trying to figure out what I would do in comedy going forward, I looked to him. He made the kind of shows I wanted to see and crucially could imagine myself doing.
I've loved other character acts too – Nick Mohammed and Kieran Hodgson and Jamie Demetriou – but Adam is the most irreverent and there's an element of danger to every show.
I liked that in his work you see the comedian behind the character, having fun, being able to comment, playing with the audience and playing with the form. It's theatrical but self aware, it's stupid but played with utter conviction. And I'm never not excited to see what he does next.
• Ciaran Dowd: Padre Rodolfo is at Pleasance Courtyard at 21:45 daily
Published: 2 Aug 2019
What do you think?