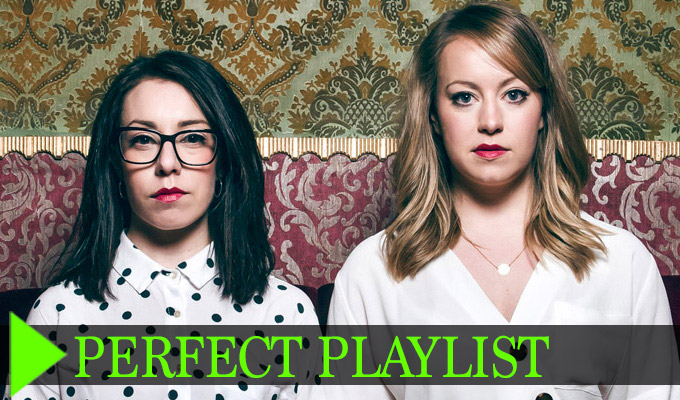 'It was obscene and grotesque and made me scream laughing'
Roald Dahl
We were obsessed with Roald Dahl as kids and our favourite book was Roald Dahl's Revolting Rhyme'. We'd make our mum read it to us endlessly and thinking about it, it's probably partly responsible for our penchant for writing long verses about people having a bit of a time.
Our favourite film was The Witches, and watching it back recently it's pretty fucked for a five and seven-year old to love it so much. We probably shouldn't have understood Roald Dahl and found his books as funny as we did, given our lack of age, but we have always had dark little souls.
30 Rock
Nicola: I stumbled upon 30 Rock by accident on YouTube and proceeded to absolutely ruin my laptop with viruses for the next few years trying to stream it until the DVDs came out.
The joke count per episode is unreal. Jeff Richmond's underscoring is perfect, and his songs are fucking funny, so the whole series spoke to both the music and comedy loser in me. And along with every other quiet, dry, bespectacled, brown haired youth, Liz Lemon/Tina Fey became a hero.
The episode 'Black Tie' where Liz, Jack and Jenna attend the birthday of a German Prince remains to this day my absolute favourite episode of television of all time.
It was the last episode in the series' initial order, and they went full insane on it and made it with the attitude of, 'Well this is the show we want to make, let's see if we can get away with it on network television. If not we'll be cancelled, but we'll always have Gerhardt Hapsburg screaming dance moves at Jenna as his eyebrows fall off into his champagne.'
It was obscene and grotesque and made me scream laughing. From that episode alone, 30 Rock genuinely changed my life and was for sure the definitive thing that set me off into comedy.
Screaming Goats
Rosie: It's the funniest thing on the internet and anyone who disagrees has no bones.
Eddie Izzard
Nicola: Eddie Izzard was the first stand-up I ever watched where I came to understand what a stand-up was. I'd seen comedians on TV doing sets, but I'd never watched a stand-up do a full show.
I was at a friend's birthday party and someone put on his VHS Dress To Kill (we were having a rager) and I fell in love with his weirdness, his phrasing, his physicality.
He was also the first comedian I saw live. When I'd just started uni he was playing Cardiff Arena and I trotted off to see him with my new roommate in that awkward way that Freshers friends hang out together. He was amazing. He didn't stop. I love him. Eddie. Not my Freshers friend. Who I am still friends with. And is amazing. And I guess I love him? In a friend way… I made it weird.
The Simpsons
Rosie: The Simpsons is a near-perfect sitcom. It was the first comedy show as kids that we were properly obsessed with and it never caused an argument of who got control of the telly; we both watched it every weeknight at 6pm on BBC Two, and shit went down in the summer when it was bumped for Wimbledon.
We begged our mum to buy us the videos from Tesco so we could see the picture along the spines, we collected all the comics and stickers (we can distinctly remember the smell of the Nuclear Power Plant scratch-n-sniff one) and Nicola still has her copy of Bart Simpson's Guide To Life which is so thumbed and studied it's basically now an ancient artefact the pages are so worn.
And we felt proper emotions watching it. I remember crying when Lisa goes to military school and gets hazed, when Bart thought he was dumb, when Homer got fired as the Isotopes mascot, when he tries to kill himself because he lost his job. And to this day we could watch Sideshow Bob get smacked in the face with a rake until the end of time. It's brilliant.
Last September we went to Universal Studios where they have a mini Springfield and we both cried when we 'met' Homer and Lisa. The love runs deep.
Victoria Wood
It feels a little on the nose for musical comedians to cite Victoria Wood on their Perfect Playlist, but here we are. Obviously The Ballad of Freda and Barry is the definitive British musical comedy song, but let's not forget Pam.
Victoria Wood was so great at honing in on these very vanilla people living their beige lives and squeezing every bit of gravy out of them for the biggest laughs.
Her use of language and rhyming and rhythm is perfect. There's nothing showy about her writing, it feels very matter of fact and non-performative in a way that we found incredibly relatable and affirming as young'uns, and still now. This applies to all of her incredible work, not just her songs and standup.
We've always been very cynical of people who post self-indulgent Facebook statuses when celebrities die, but we genuinely find it upsetting at Christmas when you look at what's on telly, knowing that we won't get a beautiful new something from Victoria Wood.
Her sketches are genius. Her standup is brilliant. Her songs are iconic.
• Flo & Joan: Before the Screaming Starts is at Assembly George Square at 18:00, starting tonight
Published: 29 Jul 2019
What do you think?