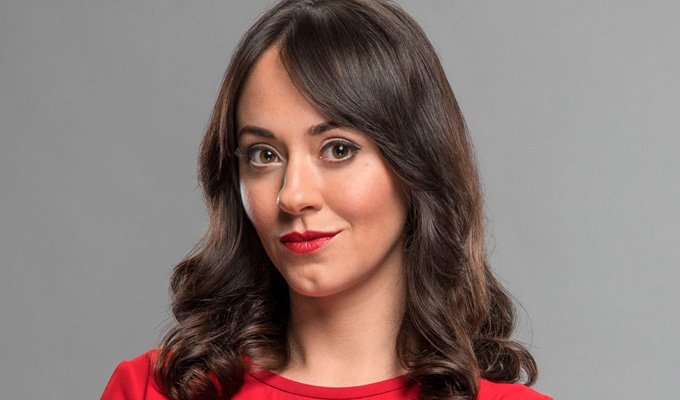 'So beautifully naive and full of joy'
Susannah Fielding will be co-starring with Alan Partridge in the new series of This Time With Alan Partridge, playing the more skilled broadcaster Jennie Gresham who has to share the early-evening sofa with Norfolk's most hapless presenter. As the BBC confirms the new show will begin on February 25, Susannah shares with us her Perfect Playlist of comedy favourites:
Victoria Wood
'Beat me on the bottom with a Woman's Weekly'.... The Ballad Of Barry And Freda is comedy at its most heartwarming: touching, true and so very British.
Swimming The Channel is a sketch my mum introduced me to and it's one of my favourites. So very sad and so very funny.
Friends
Friends was my Friday nights! I remember the excitement mounting as 9pm approached each week and sitting as close to the box as I could to soak it all in (in the days before catch-up and on demand).
Every episode makes me smile, and for me Jennifer Aniston in particular is outstanding. She makes angry totally lovable, she isn't afraid to look silly (her singing Copacabana badly at her ex fiancee's wedding in an enormous pink dress) she's lacking in any vanity and every beat is played to perfection.
Friends is a big part of why I wanted to do the multicam sitcom The Great Indoors in LA. Doing a weekly live show with a talented company, where you get to fine-tune each comic moment in front of the audience is the best job in the world.
Stath lets Flats
I'm currently loving Stath Lets Flats. Jamie Demetriou and his sister Natasia are very talented. The pigeon scene in episode one is perfect slapstick. Its Laurel and Hardy set in Haringey. The description of the pigeon as 'a bit fast and ridiculous' makes me laugh every time.
This Country
I'm a massive This Country fan! My husband and I have probably watched the scene where Kurtan celebrates getting onto his NVQ course at Swindon College by sharing a YouTube video with the vicar about a hundred times. '3am!" the celebratory dance and the look on the vicar's face is just brilliant. Im desperate to be in this show and have been working hard on my Cotswolds accent should my day come!
Vicar of Dibley
Alice 'Springs' Tinker in the Vicar of Dibley is to my mind, as good as it gets. It's a big performance but totally rooted in reality. The 'blind man' and 'inflatable boy' are two of my favourite jokes that appear at the end of the episodes but her description of her wedding dress design, (including Tarka the otter and Thomas The Tank Engine)... when she drops the word 'lino' as the main fabric for her train its perfection.
She is so beautifully naive and full of joy. I love her and I wish I'd got to tell her that she's my hero.
Alan Partridge
Last but by no means least, the man himself, Alan Partridge! There are so many moments from The Day Today and Knowing Me Knowing You onwards. I love Amelia Bullmore's Sonja- but for some reason scene that comes to mind is the one with the chocolate mousse!
I just love Steve's incredulous response 'Yeah, I've just been eating some mousse'. Gets me every time. And if you haven't seen the outtakes for that scene - watch them!
Working with Steve on the new Alan Partridge series This Time provided many outtake moments too. It's hard to keep a straight face sat next to that guy.
• This Time with Alan Partridge will begin airing on BBC One at 9.30pm on February 25.
Published: 14 Feb 2019
What do you think?